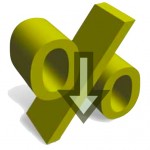 Interest rates are low right now… really low. So, is now a good time to refinance your home mortgage? Here are some things you'll need in order to qualify. Note: To know for certain, talk to your mortgage broker. He or she can give you the facts about your specific situation.
Impeccable credit is always a great asset. You'll need a very good credit score — like 720 and above — in order to qualify for refinancing at a new low interest rate.
You'll need a lot of equity already built into your home. Most mortgage lenders are not able to help you with refinancing unless you have at least 10% – 20% of equity.
If your mortgage exceeds the value of your home, you likely will not qualify
For more information about refinancing, check out this article published by the New York Times. It gives some good insight into the qualifications of refinancing. Another good web reference is this Essential Refinancing Guide. It answers pretty much every question you could possibly ask when it comes to refinancing.
If you don't have a mortgage broker and would like to speak with one, we have some that come highly recommended. Give us a call or shoot us an email and we'll be glad to help you out!