August real estate sales, both locally and nationwide, typically taper off after the rush of spring and summer and segue into the even slower fall months. We view August as sort of a transition month… usually. This year, however, we're seeing a slightly different trend. Contracts are up, sales are up, and home values are holding steady. Check out the stats below:
[Click any image to view larger version]

Sales have increased by almost 10% this year compared to last so far! Though average sales prices have dropped by 1.5%, median sales prices have remained steady at around $175,000. Home values (average price per square foot) have also held steady at just over $100 per square foot. This is a slight ($1) decrease from last year at this time. What also continues to rise is days on market. Homes are staying on the market 6% longer than last year at this time, which means either buyers are being choosy or sellers aren't listing their homes as competitively as they could, or a little mixture of both.

Above is a visual showing the number of sales that have occurred relative to each month over the past year. As you can see, August is the first month of 2012 that sales have dropped, and even then, it only dropped by one!

Contracts are the promise of sales to come. Think of it as foreshadowing. So far in 2012, contracts have improved over last year by 8.4%! This bodes well for the coming months in terms of sales. (Note: not every contract turns into a sale.) The list prices for the homes that have gone under contract have also increased by about 2.5%, so we should see an increase in sales prices as these go to the closing table.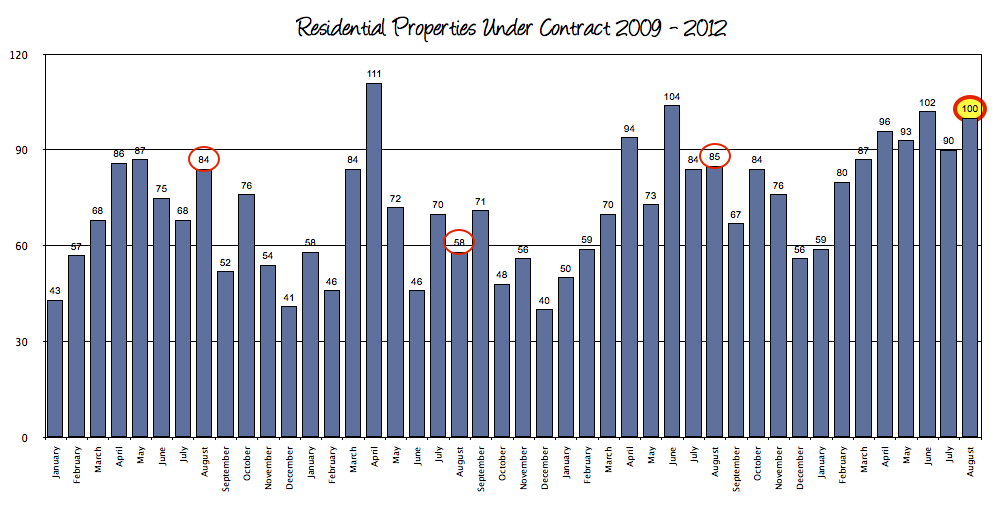 The above chart shows the number of contracts by month from 2009 until the present, and the August numbers are circled in red. August 2012 has been the highest month for (August) contracts over the past four years!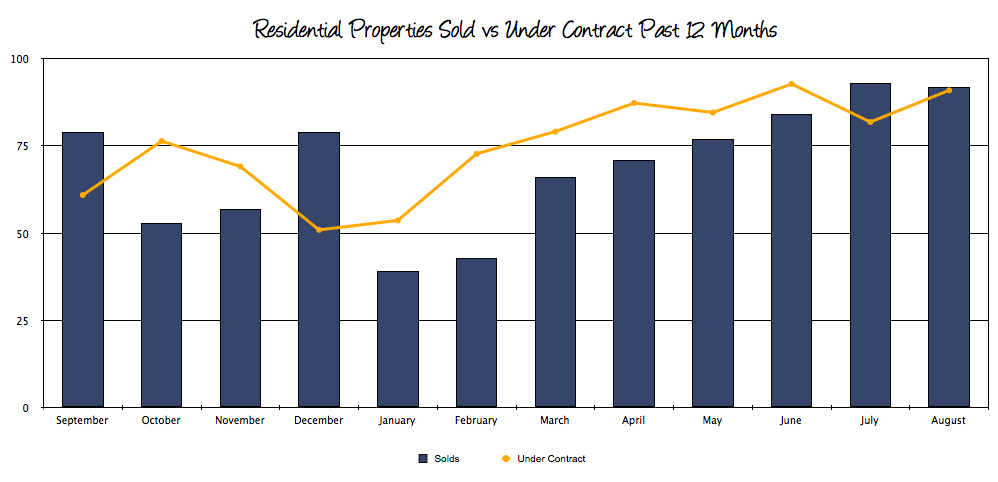 Finally, this chart shows both sales and contracts month-over-month for the past year. We like it when contracts are greater than sales, because that means sales will increase over time. Because contracts were down in July, we may see a decrease in sales soon, but the increase in contracts for August should produce more sales after that small slump. Only time will tell, truly, but that is our prediction.
Overall, August was a good month for our local Harrisonburg real estate market. It is always a great sign when contracts increase! We are also pleased that this August has shown us more hope than the last few, and we look forward to seeing what September will bring this year.
If you have any questions about buying or selling a home in Harrisonburg or Rockingham County, please contact us!
Stay tuned for more Market Trends… right here on Harrisonblog.