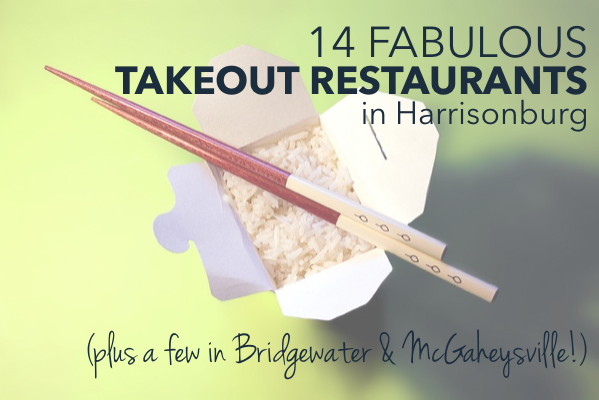 We've all been there. It's dinner time and your stomach is basically yelling at you, but you have no desire or energy after a long day to create a spectacular (or sometimes not) meal for yourself or your family, even if you've planned ahead and have ingredients on hand to make something. Here's the thing… you can save those ingredients for another night when you actually do have the time and energy to whip up something amazing. For now, have no shame and know that you are not alone.
Pick up your phone and dial up or order online from one of these 14 Fabulous Takeout Restaurants in Harrisonburg (plus a few in Bridgewater and McGaheysville!).
(We love them, and we know you will too.)
One of the best restaurants in Harrisonburg, conveniently located on Port Republic Road across from the JMU soccer fields — a friendly atmosphere inside, but with to-go options sure to please even the pickiest palate. Try any pizza, the Bruschetta Salad, The Brant (named after our own Brant Suter!), and of course, the kid's chicken tenders.
Located on South Main Street, this is an ever-popular restaurant with a tasty takeout menu. We suggest ordering the Pad Thai or Sweet and Sour Stir-Fry!
A downtown favorite! Two words: Sticky Nuggz.
Another fabulous restaurant on Port Republic Road near JMU. Amazing food comes out of the kitchen at Harrisonburg's only Irish Pub! We're fond of the Turkey Reuben Sandwich, Kid's Mac-n-Cheese, Wings, and any of their Burgers.
Located on Reservoir Street in Harrisonburg, with online ordering from their website. Their sushi is delightful!
Seriously authentic Indian cuisine located in downtown Harrisonburg. The owners are originally from Nepal!
Authentic Mexican food served from several locations around Harrisonburg and Rockingham County, including South Main Street, Route 33, and Bridgewater.
An area favorite! This bagel shop boasts three locations in Harrisonburg and offers delicious bagels (obviously), sandwiches, breakfast platters, and more. Order online and pay when you pick up!
Absolutely mouthwatering locally sourced, hardwood smoked barbecue on Burgess Road in Harrisonburg. Order any of their plate or sandwiches and one or two of their authentic southern sides, and why not add a slice of pie for dessert? Yum.
If you're in the mood for Chinese food, Golden China is a Harrisonburg standard. Located on East Market Street close to I-81.
Another great option for Chinese food on University Boulevard in Harrisonburg, with online ordering and even a group to-go menu for parties of 10 or more.
If you're looking for delicious barbecue in the McGaheysville area, look no further. This is some of the best 'cue in the area, served from an old log cabin at the base of Massanutten Resort.
Another popular barbecue restaurant in McGaheysville, with a second location in The Dayton Market, offering upscale southern cuisine and a special takeout menu. (They also have a gluten-free menu!)
14 // FRANCESCO'S
Sure, you can order authentically delicious pizza, but why not try the ravioli, chicken parmesan, or even the chicken cheesesteak, too? Garlic knots come with the entrees. This Italian restaurant is located in Bridgewater, with another location in north Harrisonburg.
What is your go-to takeout in Harrisonburg/Rockingham?