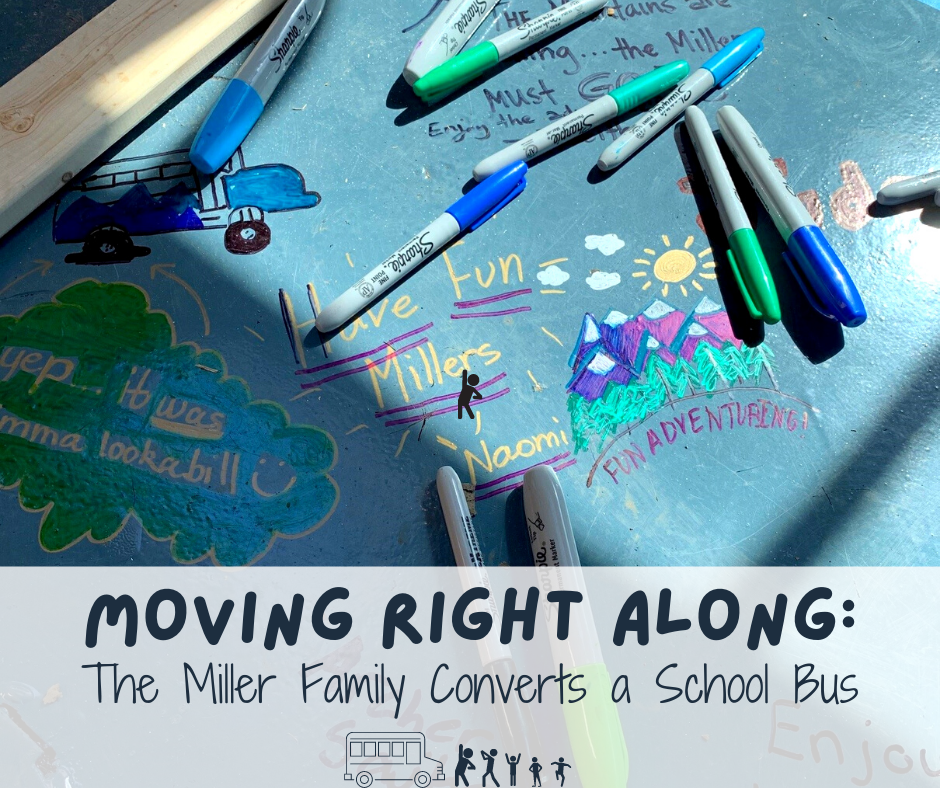 No More Mop(p)ing
You may be wondering why it has taken me so long to post a new blog about the bus.  Frankly, it is because the floor has been kicking our butts.  It has been a very long, tedious process to get everything ready to start building.  I haven't had any fun "progress photos" to share until recently.
If you are as fortunate as I am, there comes a time in your adult life when you realize that you can pay someone to do the things you hate so that you can focus on the things you enjoy.
A few months ago, Drew asked me if our mop could be discarded after using it to degrease the bus floor and prepare for several layers of product to prevent rust.  Without a moment of hesitation, I quickly offered up our mop in sacrifice to the bus gods.  My reasoning, our mop has not been used for quite some time.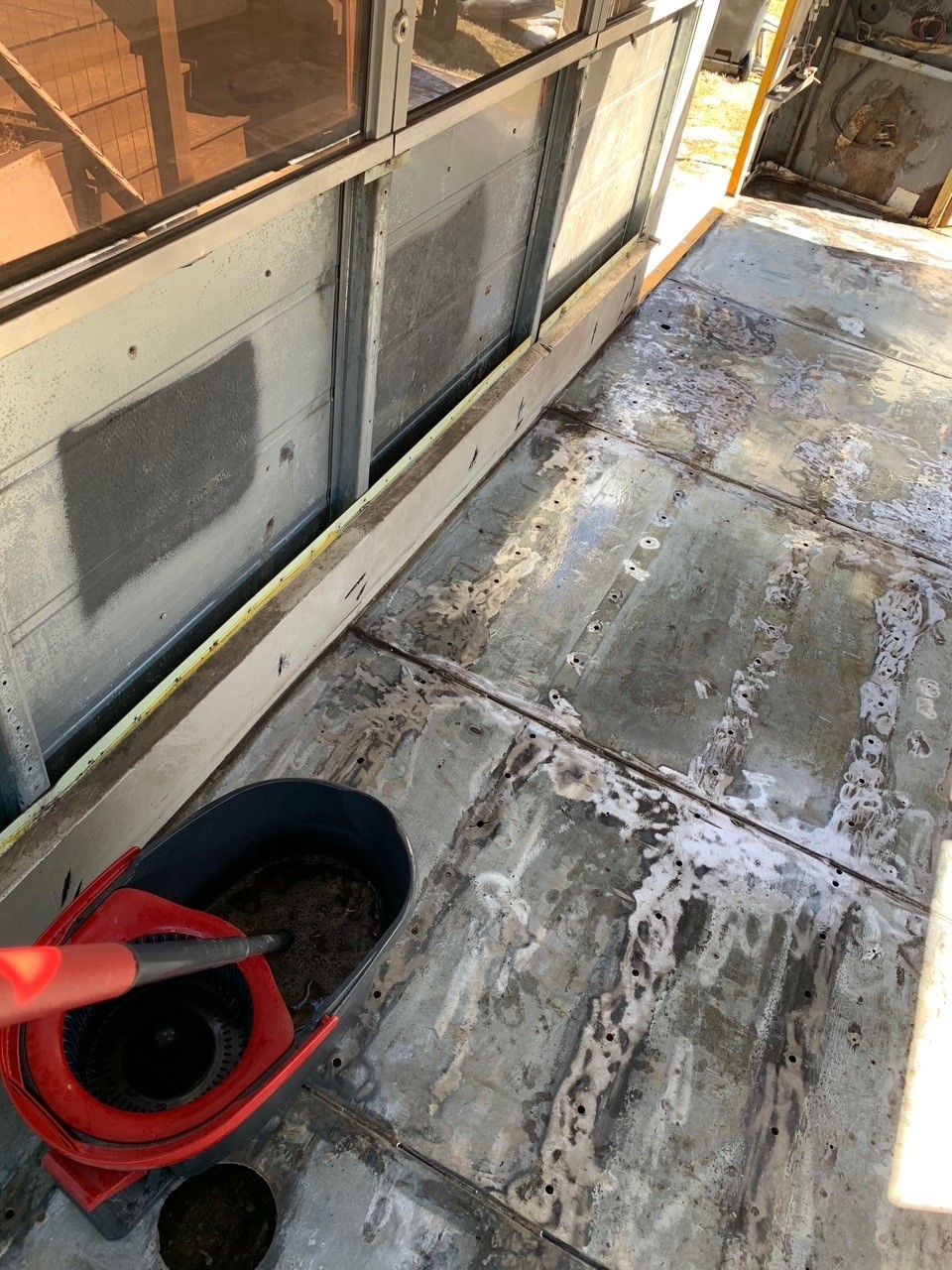 I had a small epiphany while mopping the bus floor in preparation for painting.  I had been moping about all of the work we had been doing without having any visible progress.  But as I cleaned the floor of the bus, I realized that I was literally paying someone else to clean my own floors (at that exact moment) inside my home.  I decided, "no more moping or mopping"!
I love seeing how my family and our project has changed and grown.  We are putting in some hard work.  Drew often does things in the dark when he gets home from a long day at school.  (I am not helping him at those times … see bus blog #2 and its rules) For both of us, it is rewarding to see the fruit of our labor in a very tangible way.  In this housing market, I can put in long hours showing houses, and while I love being with my buyer clients, we may not get something under contract for a while.  I spend a lot of time working anxiously, so that my clients don't have to.  Drew works tirelessly at MMS to care for students, families, and faculty, and often doesn't see the results of that effort for years to come.  As parents we are not as "in the trenches" as we were when the boys were little, but they have not reached adulthood yet either.  Their outcomes are TBD (but I see glimmers of great things).  The bus provides immediate gratification and a sense of accomplishment.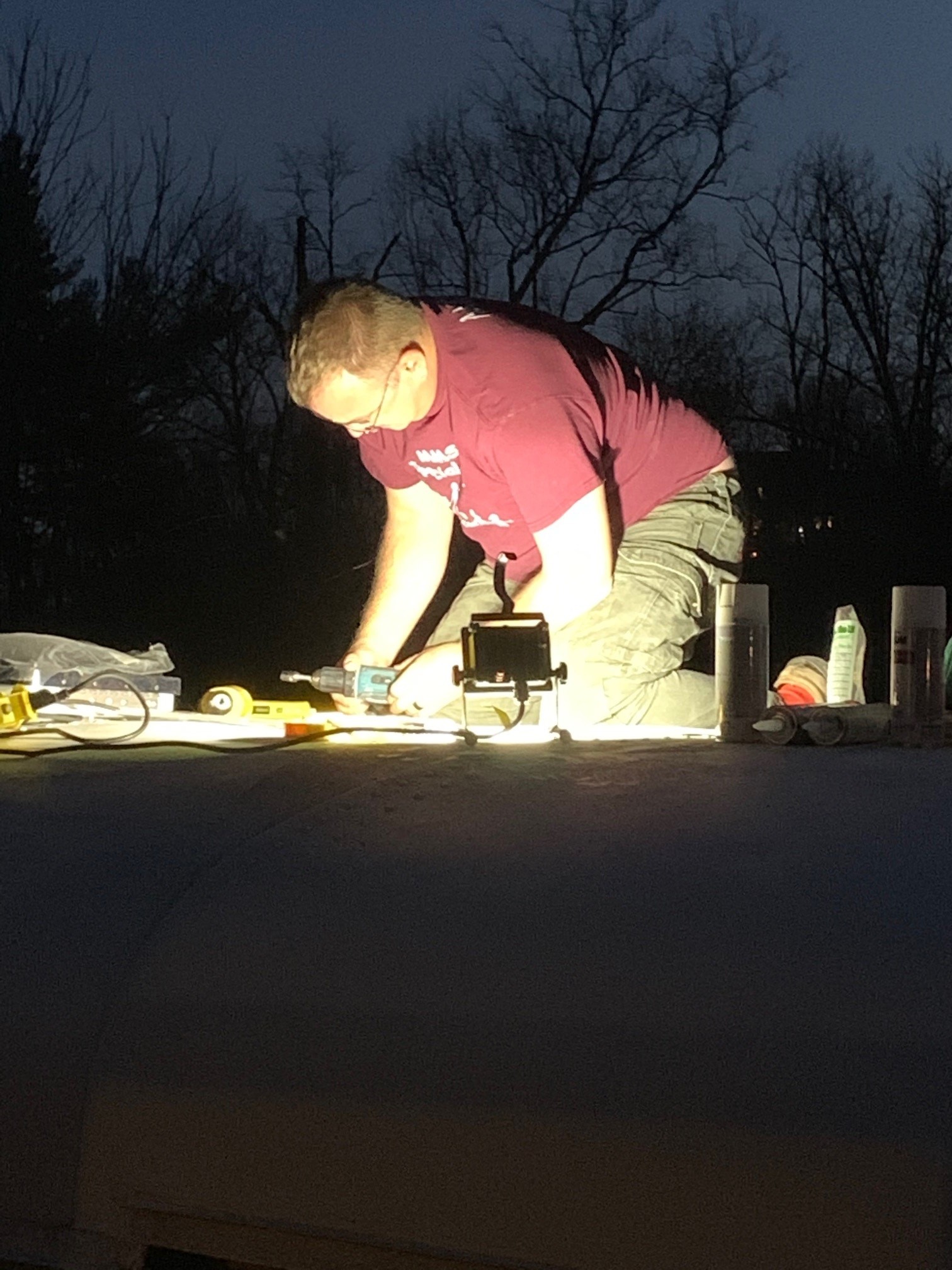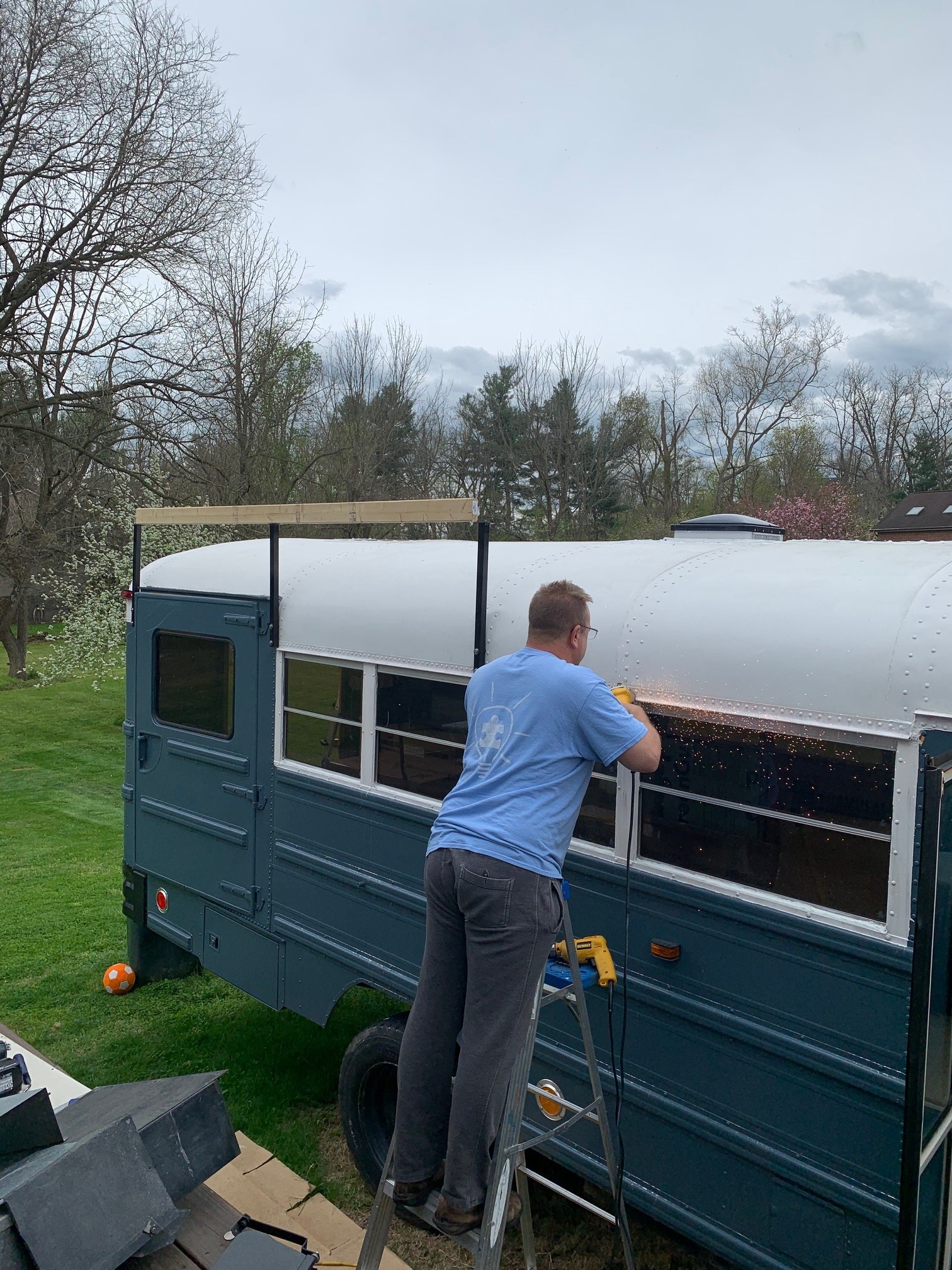 Here are some of the fun things that have happened recently:
Skylights are in place. (The only place where our oldest son can stand fully upright in the bus)
Multiple layers of rust have been removed and an undercoat, primer and paint have been applied to all metal surfaces.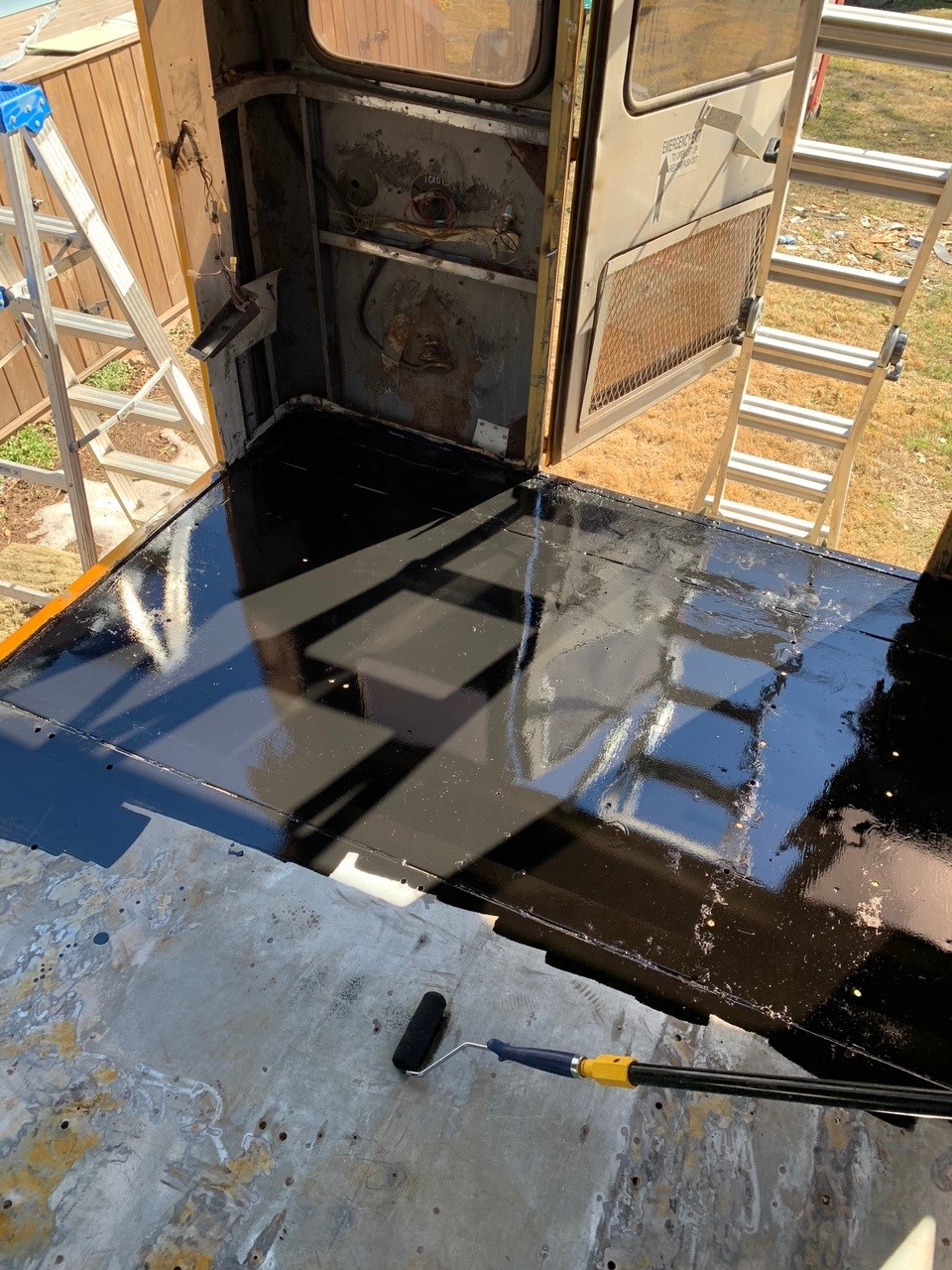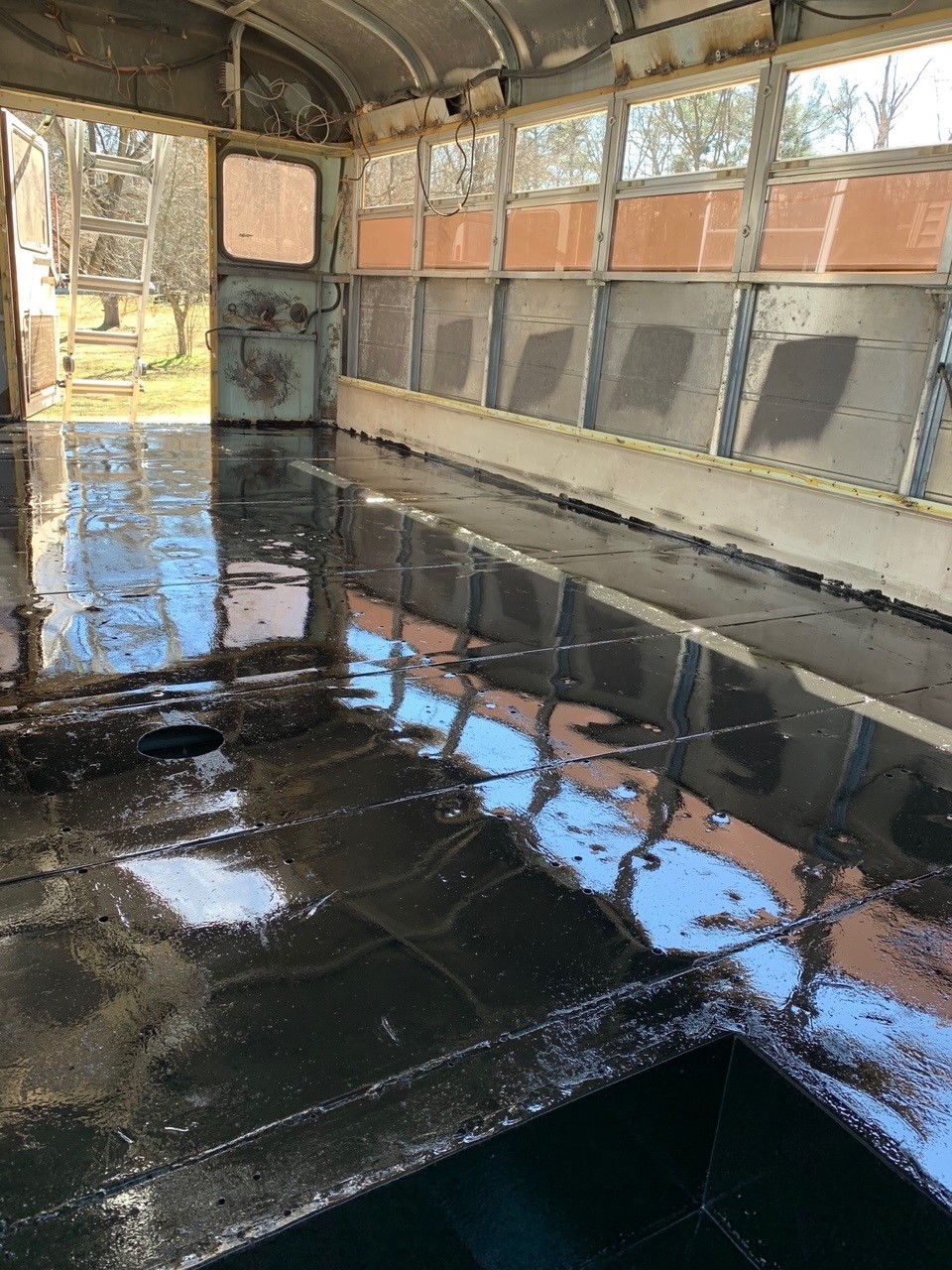 The floor has been penny-ed.  Arranged by decade, the pennies start in the back of the bus with the 80's and graduate to the 50's by the driver's seat.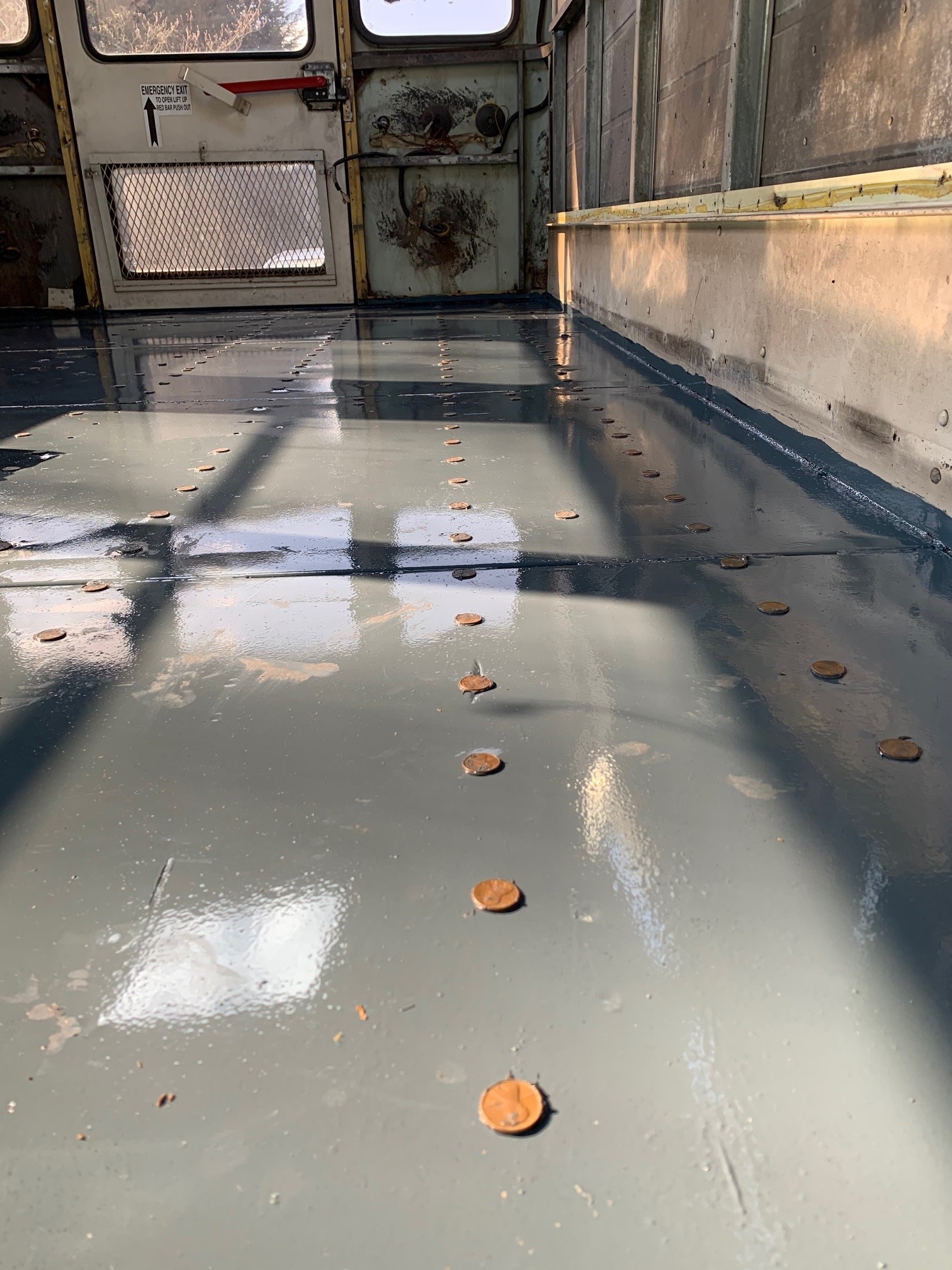 Drew is welding things everywhere.  (He even caught his shirt on fire, and then immediately ordered a leather apron.  Thank you, Amazon!)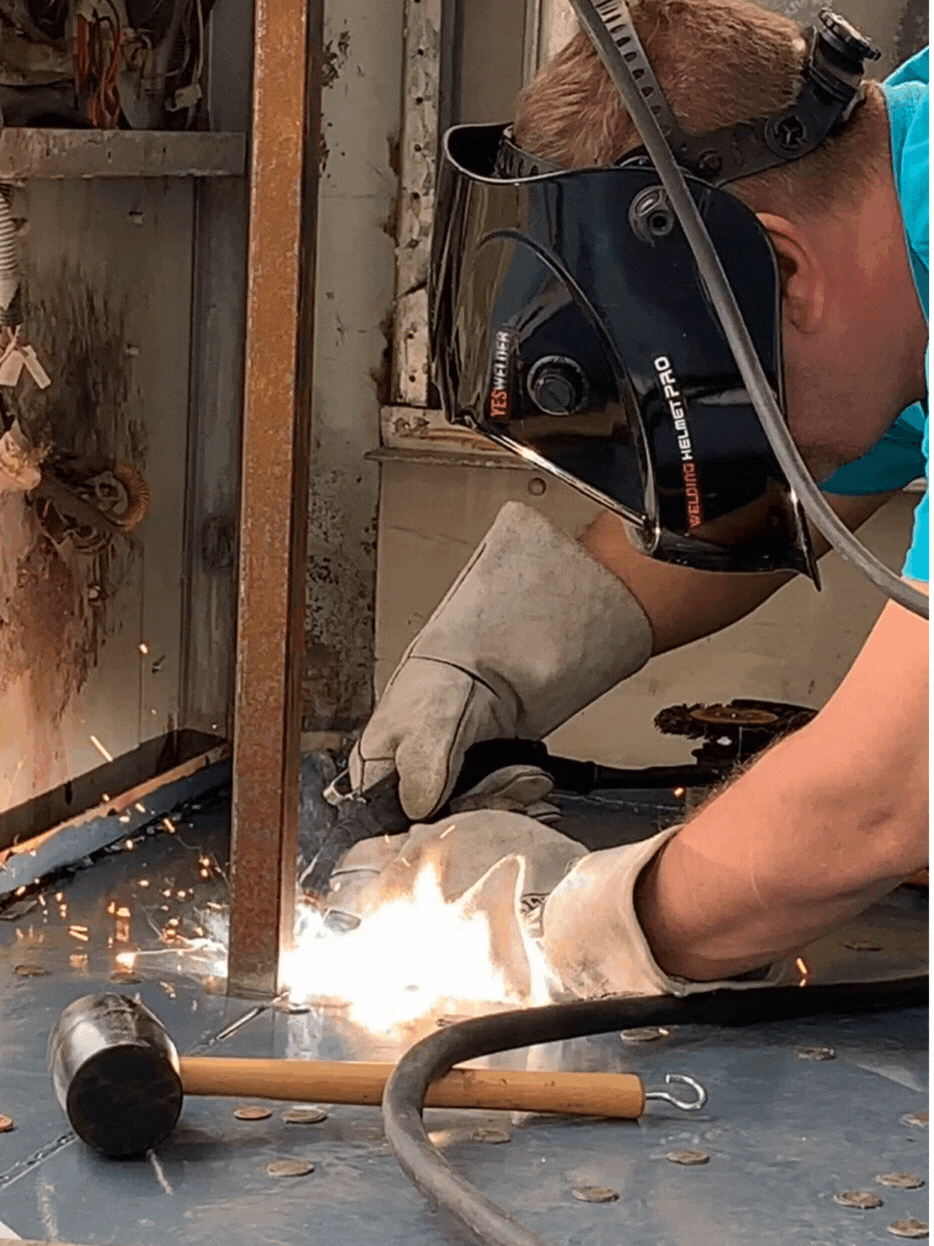 We have created the "Floor of Fame" by inviting friends and neighbors to stop by and sign it before putting in the plywood subfloor.  Quite possibly one of my favorite stories of this entire experience came from this process.
We have lived in our current house for almost 15 years and for much of that time there has been a little girl next door who is the youngest in her family.  Picture a petit, curly red-headed little pixie who dances around her backyard.  I have had the privilege of watching her grow up for the past 8 years.  One of our family jokes has been that any time something went wrong at our house, we would say "Emma!", as if she could possibly have anything to do with a broken water heater, etc.  When she signed the floor, Emma drew a picture of the bus with a flat tire and wrote, "Yep, it was Emma!"  Priceless!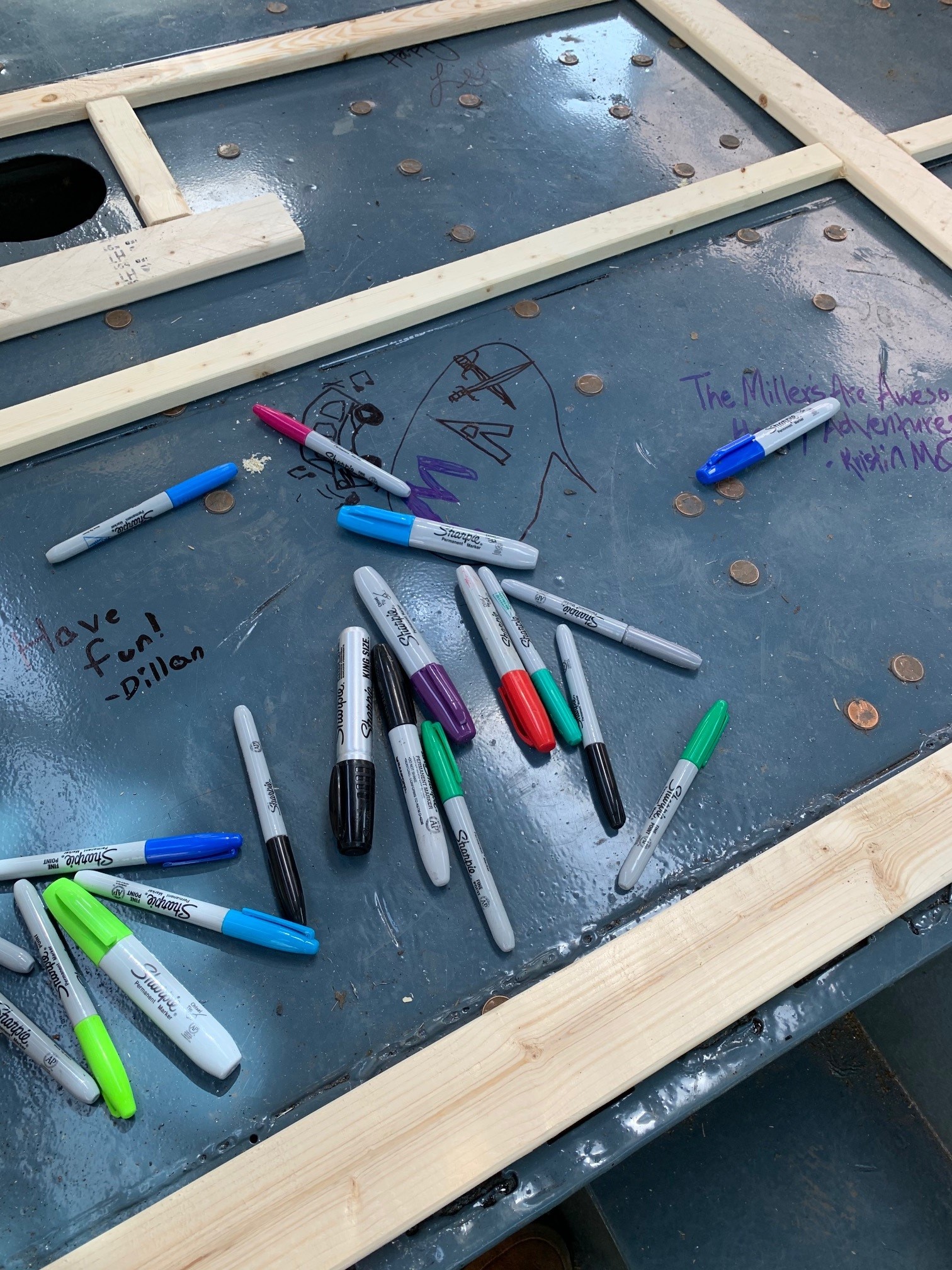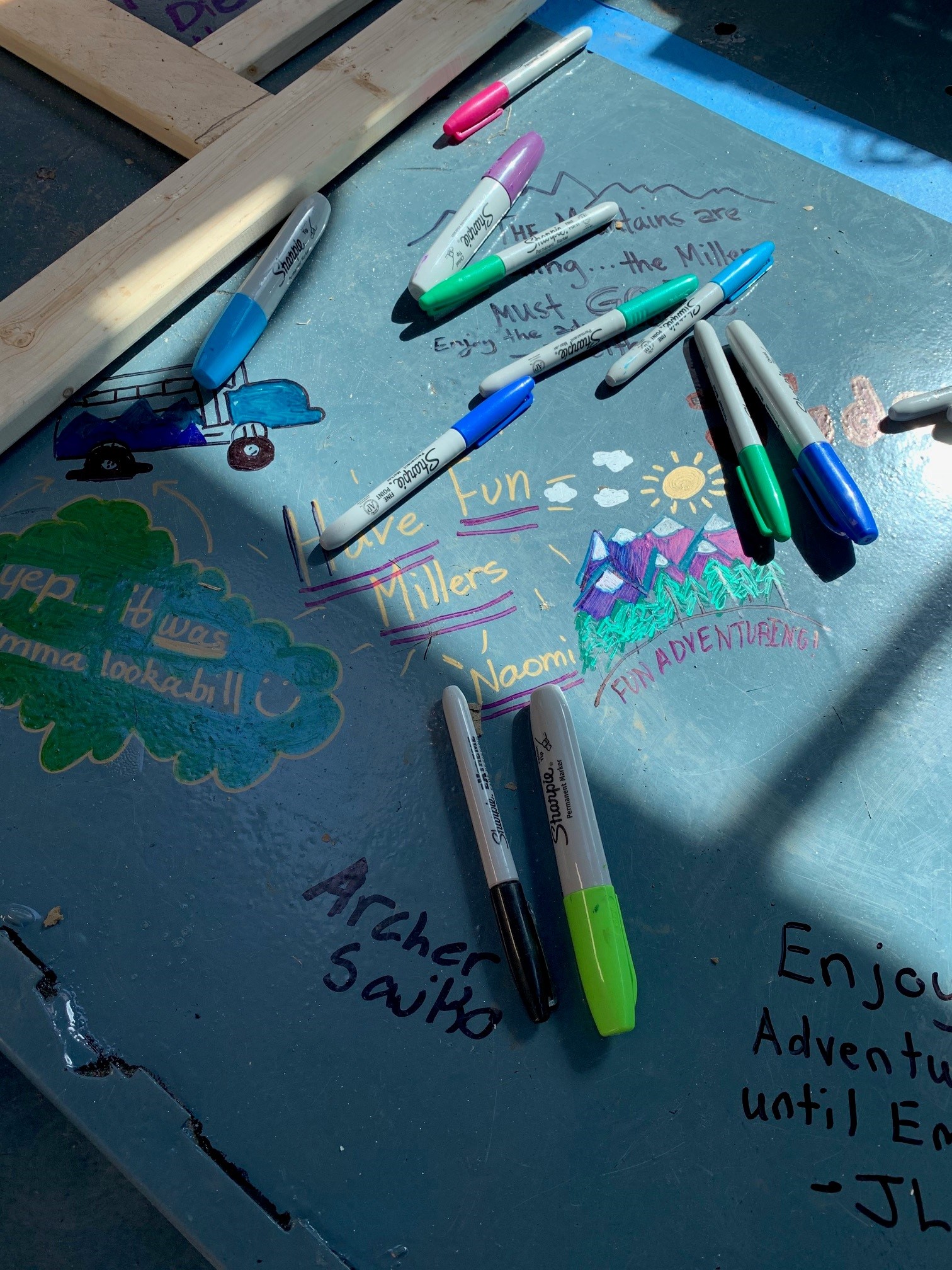 The bus floor is finished.  The final layer is floating, LVP flooring from Costco.  It only took a couple of hours to install and would have taken even less time if we had not had to cut around the deck supports in the middle of the bus.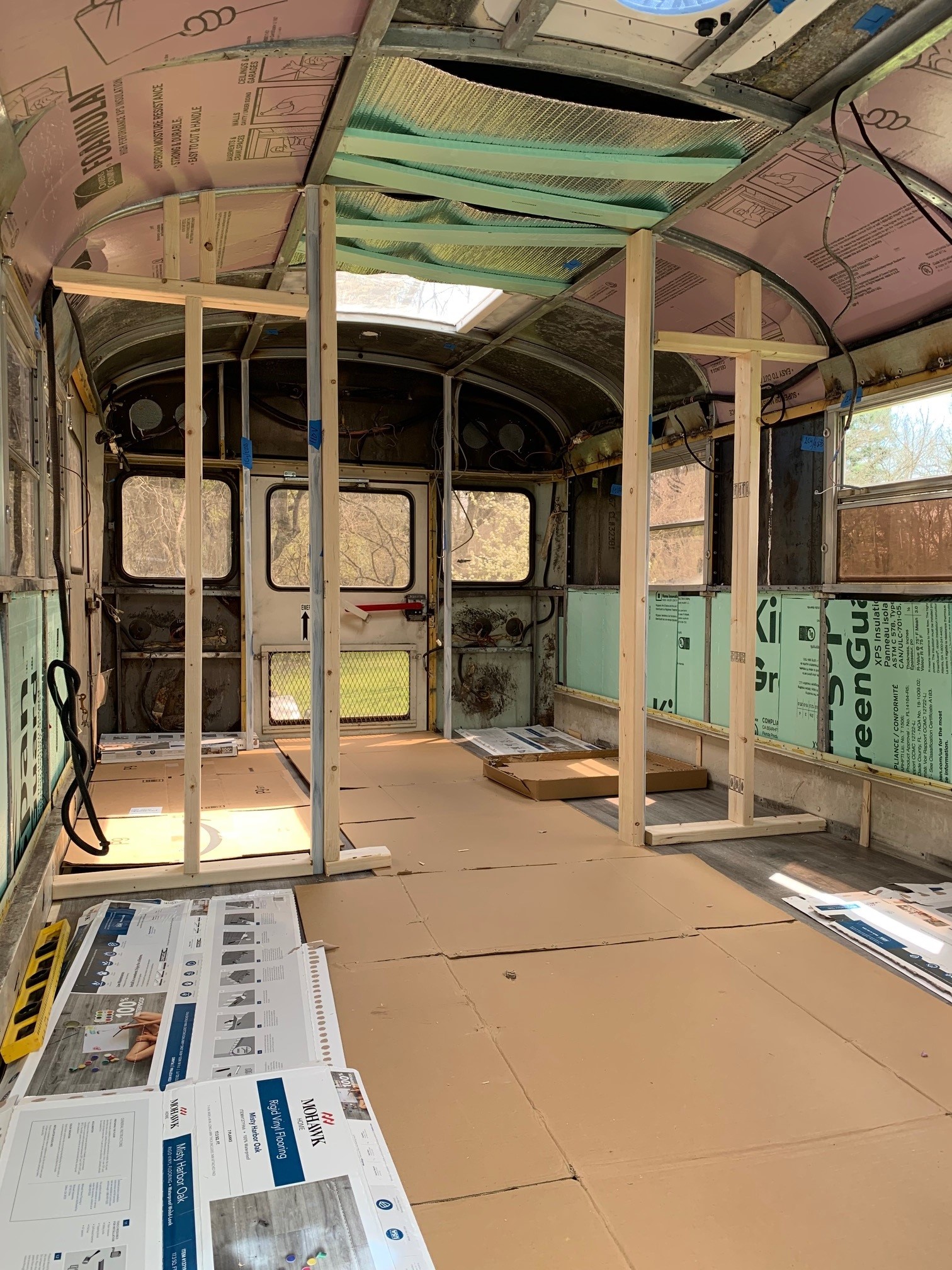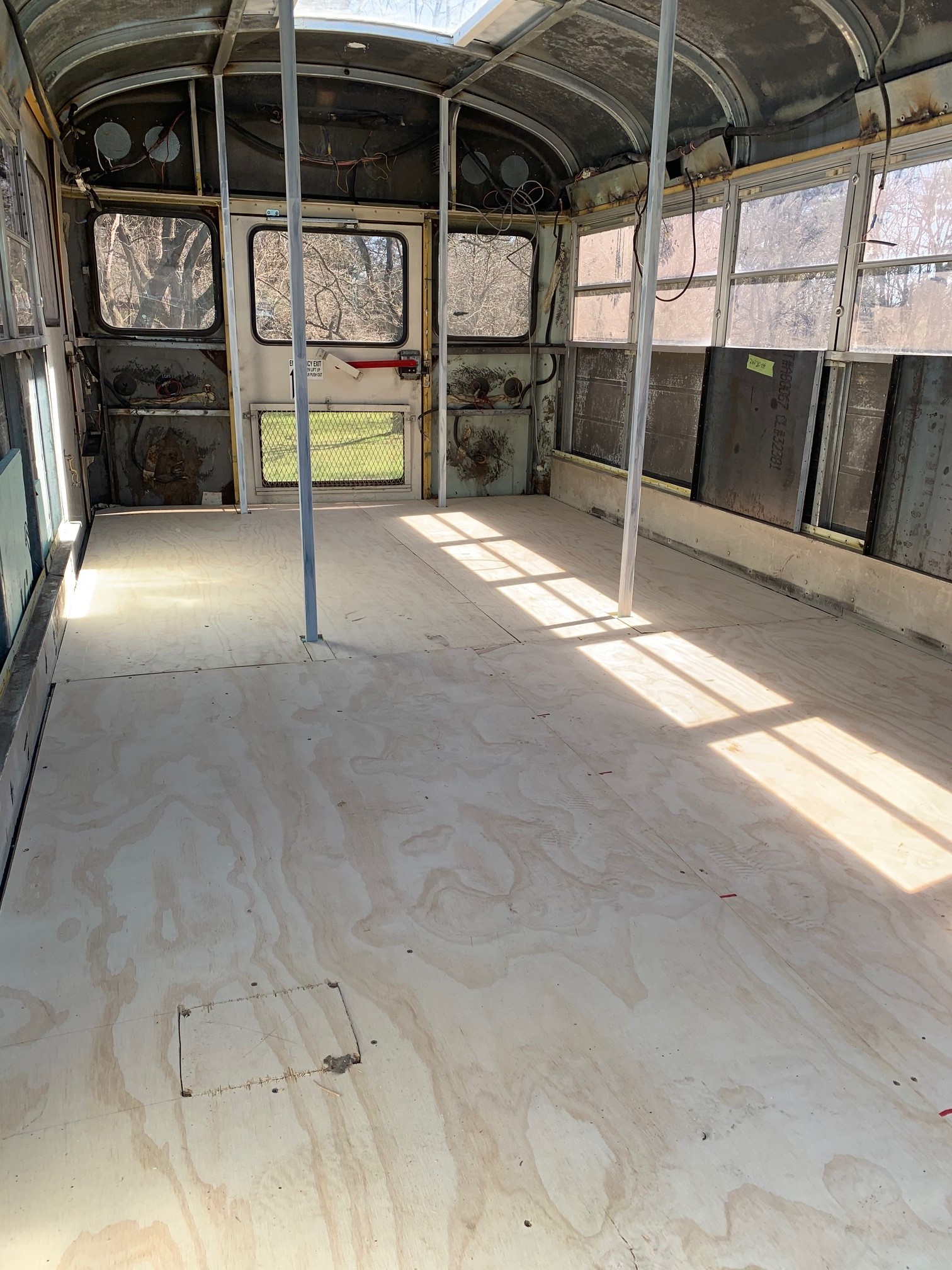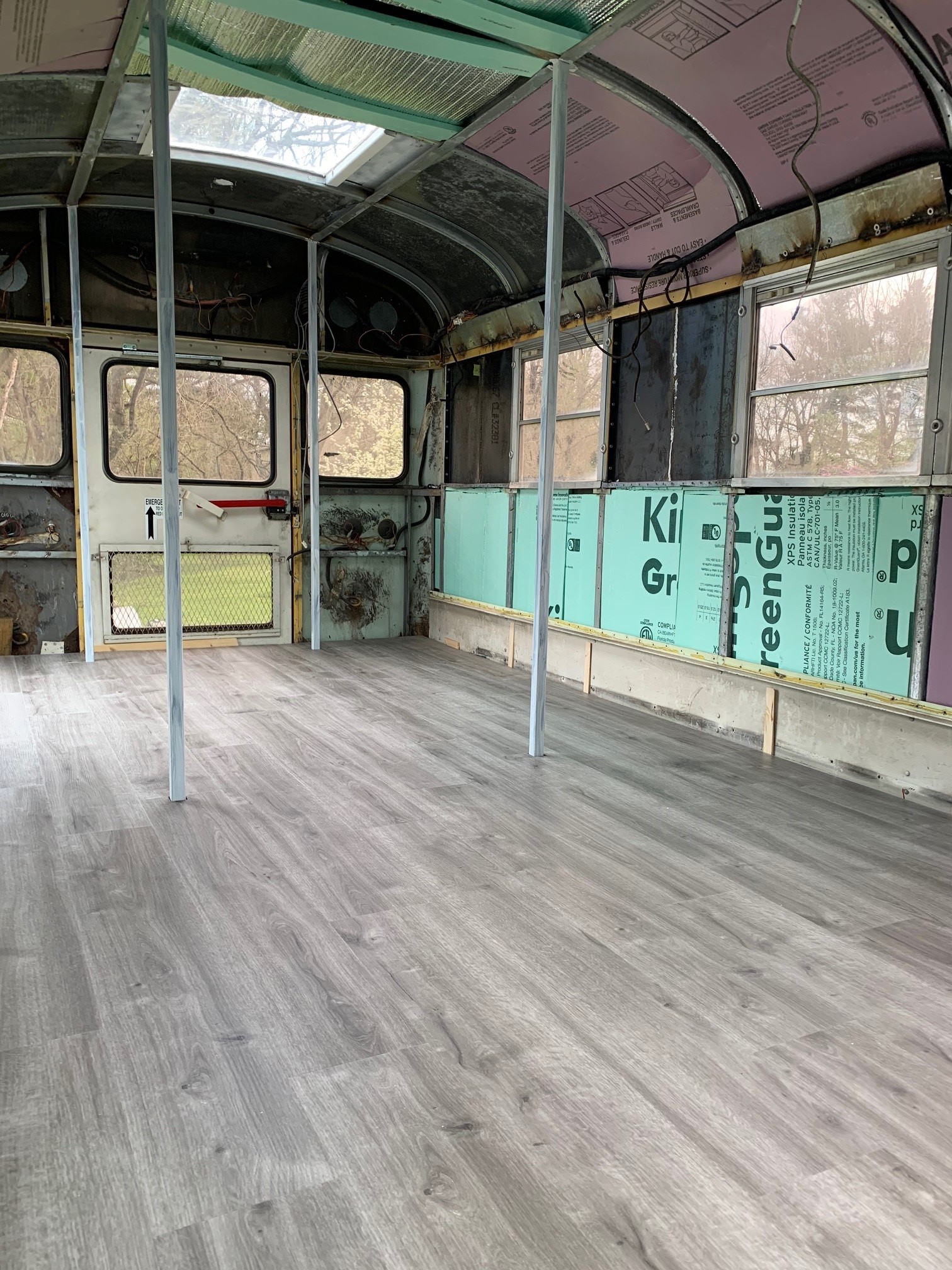 The walls are framed in.  (I had my three, 5th grade "home school" students help me figure out the measurements and angles. We went with the "measure three times and cut once" method.)
While the complete deck is not in place, you can see the beginning of the frame.  (No erector set in sight.)