We turned the page on the calendar last week to December, which means the monthly Market Report is delivered to you again! Last month, we reported that October not only showed somewhat favorable results in sales, but also in contracts. As fall begins to fade away and winter looms in the distance (not to mention the busyness of the holiday season), we find ourselves in a sort of slow-down in terms of real estate. This is not to say properties aren't selling… they're just not selling as quickly. Lets take a look at November's numbers:
[Click any image below to view larger version]

The first number to look at is the year-to-date sales percentage, which is +2.3%. YTD sales this year versus last year have increased! (Last month, the YTD sales percentage had an increase of 2.7%… so because it is lower this month, we see that slow-down.) It is also important to note — though not really positive news — that average price per square foot (AKA home values) decreased 7.0% this year compared to last year at this time. We're still seeing home values fluctuate a bit in order to find its balance.

Above is a simple graph showing the number of sales as that stat has progressed throughout the year. November sales were higher than October's.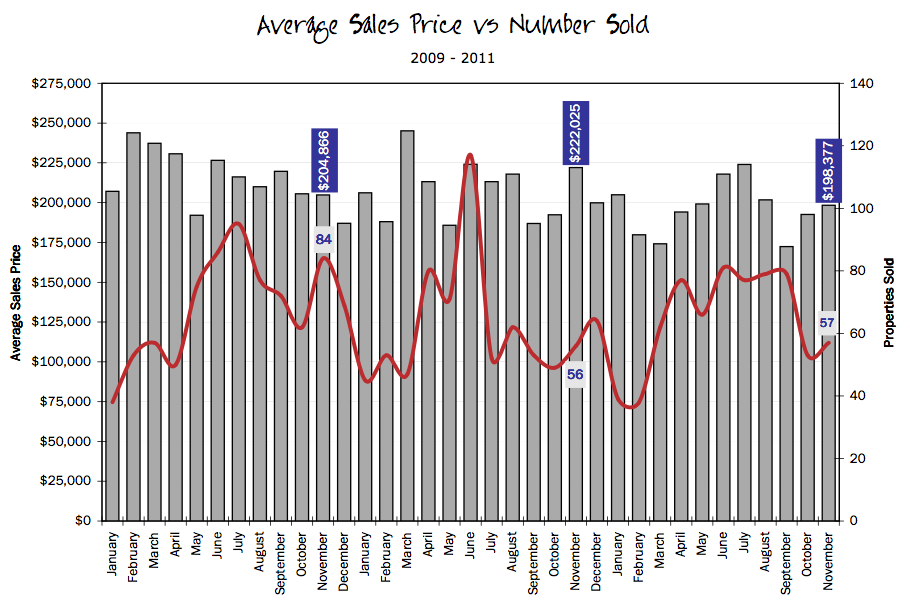 Remember last month when we introduced some new charts? Above is one that shows average sales prices versus the number of properties sold from January 2009 through November 2011. The November numbers are highlighted.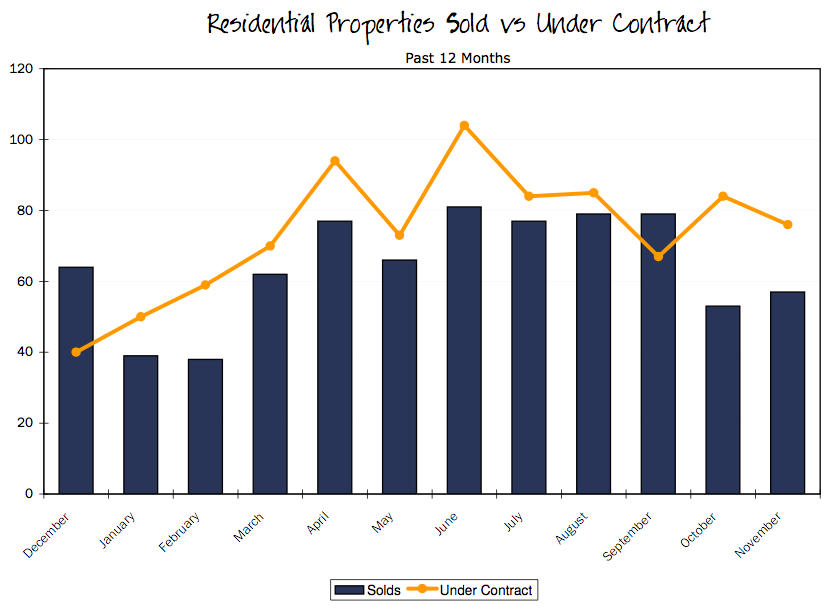 Above you'll see another simple graph showing the number of residential property sales versus the number of homes that went under contract over the past 12 months. The fact that contracts are above sales proves that buyers are continuing to "shop," and we should see most of those contracts turn into sales in the coming months!

Speaking of contracts, there were 76 in November, which is a decrease from last month by 9.5%. However, looking at the big picture, we see that YTD contracts are up by over 20%! The promise of sales to come!
November 2011 was a fairly strong real estate month here in the Shenandoah Valley. Buyers are buying, sellers are selling, and contracts continue to show strength. Stay tuned for more market trends and the December Market Report, right here on Harrisonblog.