Food Trucks are popping up all over the Shenandoah Valley! This is the fifth in a series of interviews with our favorite local food trucks…
Summer's almost here – the season for being outside, hanging out with friends, and….eating barbeque. I happen to know a great place to get some homemade, delicious barbeque – Flavor Savor Barbeque. While I was there snapping pictures, a customer informed me that "it doesn't get better than this." If that doesn't convince you that this bright orange truck is a must-have in Harrisonburg, maybe the plethora of competition trophies that Pitmasters Chance Cooper and Dan Chapman have won will. Or, just stop by and Chance will convince you himself – with one bite of his food, your taste buds will be doing just as the name implies….. savoring the flavor.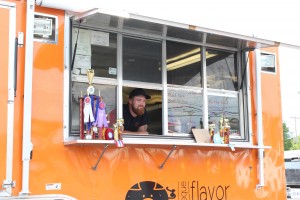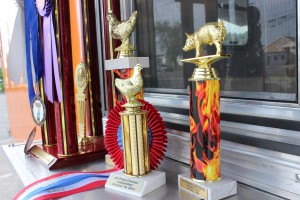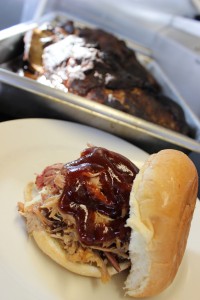 What is the most popular item on the menu?
CC: Pulled Pork – that's what we turn around the most of. But we've got a bunch of people that are loyal followers of the Beef Brisket. But as far as sale quantities go I'd say the Pulled Pork is the number one.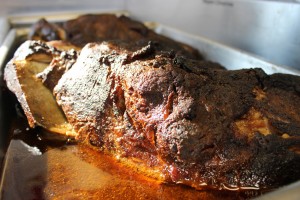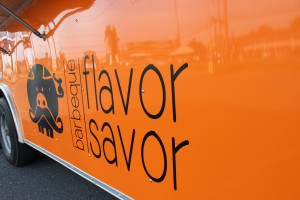 What is YOUR favorite item on the menu?
CC: I love the Beef Brisket. I don't think anyone does it as well around here. But also, I really like our Korean tacos that we put together. It's got some local kimchi and house-made quick pickles and homemade Korean kogi sauce. That's probably what I eat the most of. You get some veggies in there.
Who do you credit for your cooking skill?
CC: I'd have to say, my parents – both my parents, growing up in Atlanta. We would do barbeques. My dad was always a big barbeque guy. We'd have big parties. And even then, as generations before them, it's just kind of been in the bloodline. I'd hear stories about going to these big family parties and we would have whole-hog barbeques with hundreds of people over. So it's just been in my bloodline on both sides of my family. For the most part, everything is self-taught culinary-wise.
What is your favorite part of this job?
CC: It's gratifying being in control of everything. It's hard work. It's the hardest thing I've ever done. Some of the worst days of my life and some of the best days of my life happened in this truck. It's my first time being an entrepreneur….but it's the way to go for me, I think. And I love the customers. I have people that they'll grab a sandwich from me, go eat in their car or go next door and eat, and come back to shake my hand just to tell me that it's the best barbeque they've had. I had a woman, she was probably in her seventies, tell me, "I have never ever eaten beef that is this good." Yeah, there's a lot of gratification in that. Just making people smile…that makes me feel good.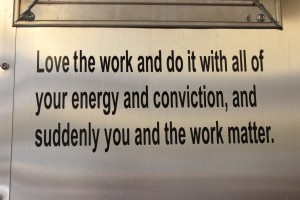 Chance is considering changing each 'w' to a 'p'…
What is the most unique/difficult thing about working in a food truck?
CC: My experience of a food truck has always been just a one-man show. So it's 24/7. I'll probably get 4 or 5 hours of sleep, at the most. But, unique experiences….I think I start taking it for granted sometimes because we'll do some work with Three Brothers Brewery and I'm out there drinking local, delicious draft beers and listening to music and….that's my job. That's pretty cool. I drink a beer and make a barbeque – people do this on the weekends….and this is my day job. I do enjoy that. That's pretty unique. You don't get to do that everywhere.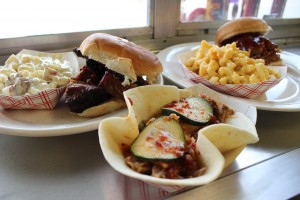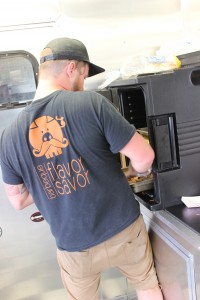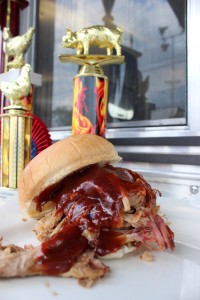 Why a food truck?
CC: The lower overhead, for one. That's the obvious. It's definitely a fad – you can see it on television networks and everything – it's exploding. It started kind of more on the West Coast, and it's evolving. You know, years ago food trucks were called roach coaches…. But now we have talented chefs that are putting out really good food, at a lower cost, and it's quick, and it's very pedestrian friendly. So, I just kind of recognized Harrisonburg's need for, A, good barbeque, and B, I saw the food truck industry starting to grow here and thought I could work my way into a niche…I think I've been able to do that pretty well.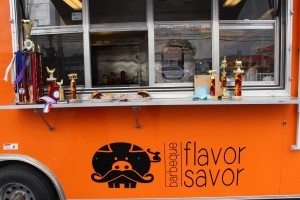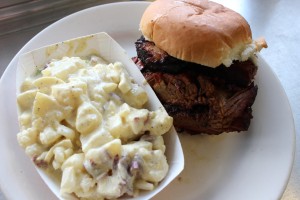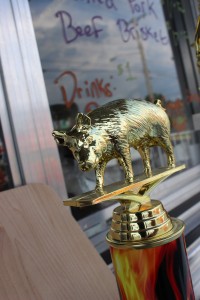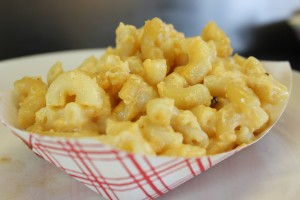 Why did you pick barbeque?
CC: I came from Atlanta where there was a plethora of really good barbeque. When I came up to Virginia I just thought that I could really offer something that was worthwhile. I've always loved barbeque. I've been doing it for years. We started off as a competition team, going up and down the East Coast for about 4 years… won a couple trophies here and there – and decided people probably want to buy this. And we had offers to do somebody's wedding and other backyard parties before we were an official establishment. So, that kind of got the wheels turning to make a business out of it.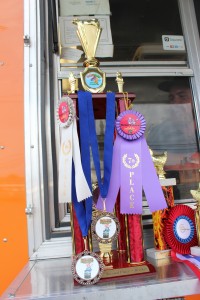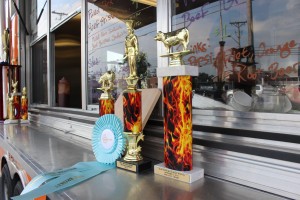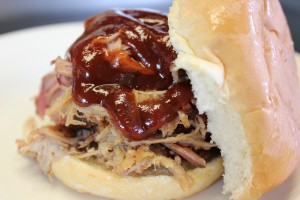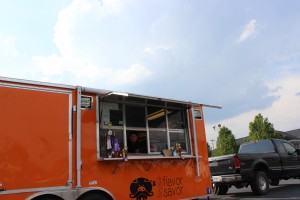 Go Savor the Flavor for yourself! Most weekdays, Flavor Savor Barbeque is located on Route 11, next to Kline's Dairy Bar in Harrisonburg. But keep up with them on Facebook to find out where they'll be on the weekends.
Have an event coming up? Or a big backyard party? Flavor Savor caters! For your backyard parties, you can also pick up bulk orders directly from the truck to take with you – just call ahead first (540-820-8450).