Imagine for a minute that the remarkably talented chef from the always-delicious Clementine Café and the genius behind the award-winning cocktail menu at the Local Chop & Grill House paired up to open a whole new restaurant. Now imagine that it's in a beautifully renovated and designed space (concrete floors, reclaimed-wood table and bar tops, church pews as "booth" benches, salvaged windows on the walls, and a fully-functioning glass-paned garage door). And, on the menu you'll find global comfort food and globally-inspired cocktails. The best part is….this is real! This is Food.Bar.Food. I had the privilege of talking with owners Amanda Cannon and Jeff Minnich while getting a tour of the space. I can hardly wait for it to open in July!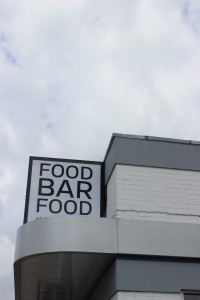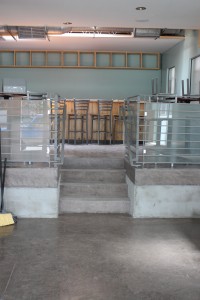 How did you come up with the name?
AC: Jeff actually came to me with the name in mind. To me the name really states very clearly who we are and what we do. Our focus is on the food and the bar and the food. So it's all about the quality of flavors. Our focus is on that. We are not also trying to be an art gallery, we're not a music venue. I appreciate so much the places downtown that do bring those aspects of entertainment, but what Jeff and I are passionate about is the food and the drinks, and so that's just a clear statement of what we're doing.
JM: When I thought of it, I didn't want to be clever or cute, I just wanted it to be the most distilled down version of what we're doing. I wanted it to be as simple as possible.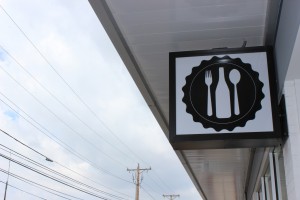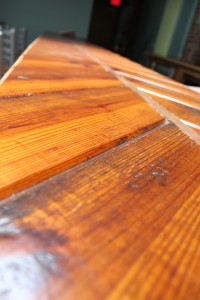 The beautiful bar top made with reclaimed wood
Tell me about the food you'll be serving.
JM: I love comfort food. We all do. There are so many different takes on what comfort food is around the world. We're going to have fried chicken, but it will be Korean fried chicken. We're going to have risotto, which is like the quintessential Italian comfort food. We'll have a lot of Southern things. We're going to have some Miso and other Asian things. But nothing that's so obscure, so outlandish that it will scare anybody or that they won't be able to pronounce it. We're still trying to keep it as recognizable as we can, but as international as we can. And we'll tweak things a little bit.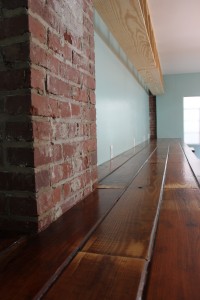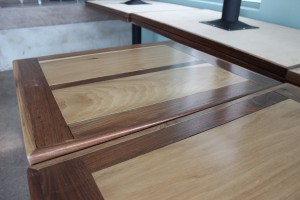 Each table was hand-made and is therefore unique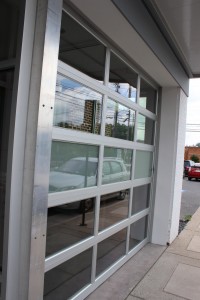 As soon as they get a screen installed, this door will be wide open to let in the fresh air
What about the drinks?
AC: I love to play with cocktails and flavors and I'm taking inspiration from Jeff's global comfort food menu. So taking what might be a familiar, well-known cocktail and adding an international flair to it. And I'll have four rotating drafts behind the bar. I'll offer a selection of wines by the glass as well.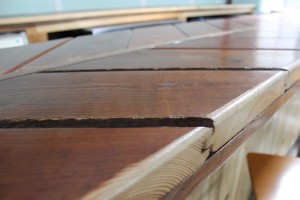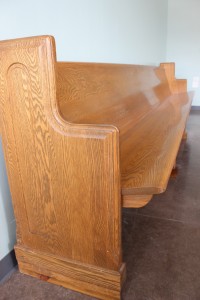 Salvaged from a church in Charlottesville, the pews will be used as "booth" benches
When will you be opening?
AC: We will be opening sometime in July. We'll open with a dinner menu Tuesday through Saturday and a Saturday and Sunday brunch menu. I'm very excited about brunch, it's my favorite meal of the week. I think there's room to have another brunch option.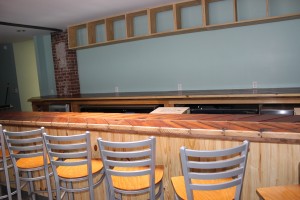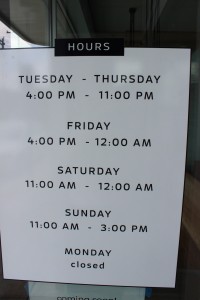 What's the draw of Food.Bar.Food? What will bring diners in?
AC: We're excited to be a part of the downtown culinary district. Jeff and I have both been working downtown for years. All the talented people downtown have really created a destination in downtown Harrisonburg for food and drink. We're excited to be part of that momentum. Along the same lines, it's great to have options. I think more people are learning to appreciate how much quality and value is in downtown. Because we are offering a unique food menu, I think people are going to want to explore the flavors. Comfort food really is…you know, it's something that you want when you're celebrating, it's something that you want to nurture yourself, it encourages really having a shared meal and a conversation to connect to people. I think it's really going to appeal to people on a broad spectrum.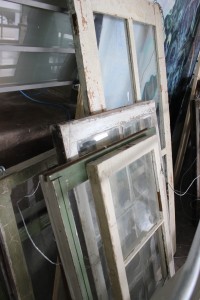 Salvaged windows that will soon be hung on the wall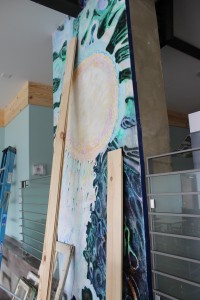 This was painted by Jeff! Don't worry, they'll move the planks before they open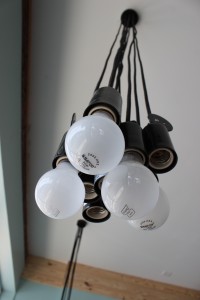 Wait until you see these completed. All I'll say is…metallic-dipped….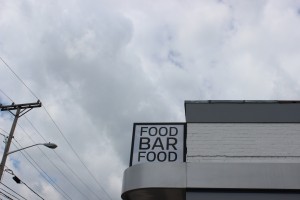 Food.Bar.Food is located at 126 W Bruce Street
Keep up with Food.Bar.Food on Facebook as Amanda and Jeff put the finishing touches on the space. And, keep an eye out for the opening date!