It's the most important meal of the day. It gets your metabolism jump-started. It feeds your brain. It gets you going. It's breakfast. Harrisonburg is home to a wealth of delicious, locally owned breakfast hot spots. Check out our list of favorites, then rise and shine and get your breakfast on! Try them all. You won't be disappointed!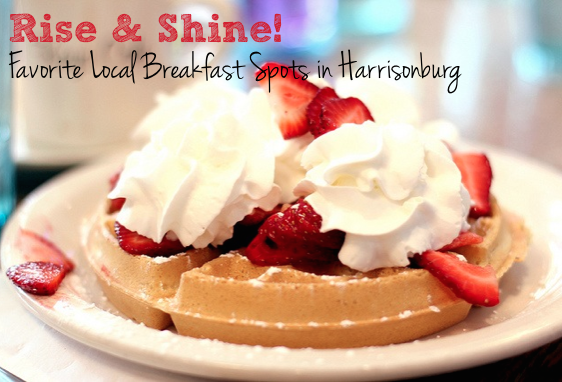 Breakfast All The Time
Little Grill Collective. Probably the most popular breakfast joint in the 'Burg, this r

efreshingly eclectic, community oriented, restaurant serves a fabulous morning meal. 

A Bowl of Good. A bountiful bowl of local ingredients and handmade specialties await you in the morning hours at this popular restaurant.
Earth & Tea Cafe. Not only can you enjoy an aromatic cup of hot tea, but you can also delight in a beautifully prepared breakfast or brunch dish at this globally inspired cafe in downtown Harrisonburg. Serving banana bread pancakes with special toppings, Belgium waffles, french toast, various parfaits, sandwiches, and fruit salad.
Artful Dodger. Breakfast is served everyday, all day! Simply go for a bagel or quesadilla, or try the french toast, Morning Glory Plate, or a handful of other egg-focused dishes.
Mr. J's Bagels. The Harrisonburg bagel place is Mr. J's, which serves up breakfast sandwiches and platters every day.
Cinnamon Bear Bakery & Deli. Breakfast served all day every day at this sweet cafe across from JMU on University Boulevard. Wraps, sandwiches, and cinnamon rolls to start your day, alongside a glorious cup of coffee.
Bakers Dozen Donuts. Open daily except Sundays, this donut shop provides Harrisonburg with delectable sweets for breakfast, including donuts, breads, cream puffs, cinnamon rolls, and much more.
L & S Diner. A classic diner experience with a friendly staff, serving affordable breakfast daily. Eggs, bacon, sausage, home fries, pancakes, omelets, french toast, and breakfast sandwiches are on the menu. They also have daily specials!
Joe's Griddle & Grill. This popular truck stop on Route 11 South (formerly known as Southside Diner) offers daily breakfast (all day every day) in a diner atmosphere, and is a great spot for groups or kids! If your feeling mighty hungry, this is the place to fill up… large portions at a great price.
Brunch on Saturday + Sunday
FoodBarFood. Global comfort food for brunch means menu items like dulce de leche on blueberry banana pancakes, homemade biscuits, heirloom tomato martinis, and more. Anyone else's stomach growling yet?
Billy Jack's Wing & Draft Shack. Weekends are for brunch, and Billy Jack's does it right with breakfast sliders, chicken and waffles (what?? yes, you read that right.), crab cake benedict, special brunch cocktails, and more.
Brunch on Sunday
Clementine. Clementine's Sunday brunch menu goes on and on, with several fabulous choices in each of these categories: entrees, sandwiches and burgers, sides, drinks, a kids menu, and even desserts. Yes, please!
Bella Luna Woodfired Pizza. Bella does brunch on Sundays! Try their House Biscuit Sandwich, which oozes handmade decadence. They've truly added breakfast dishes that are just as amazing as their original pizza line-up.
Corgans Publick House. From 11 AM – 3 PM on Sundays at Harrisonburg's only Irish pub, you can dine on a traditional Irish breakfast, breakfast pizza with sausage, eggs, bacon, and cheddar, or their famous french toast, plus sip on a cocktail or Irish coffee!
Where is your favorite breakfast spot in Harrisonburg? What is your favorite menu item? Please share in the comments!