If you know us at all, you are fully aware that we love food. The fact that our office is nestled in the heart of the downtown Culinary District makes our hearts (and bellies) sing. Eating, for us, isn't a problem. The problem comes when we want to dine on our favorite dishes but the budget doesn't allow for it. So, another good reason to have an office downtown means that we can stay on the pulse of where the best deals are at our favorite restaurants.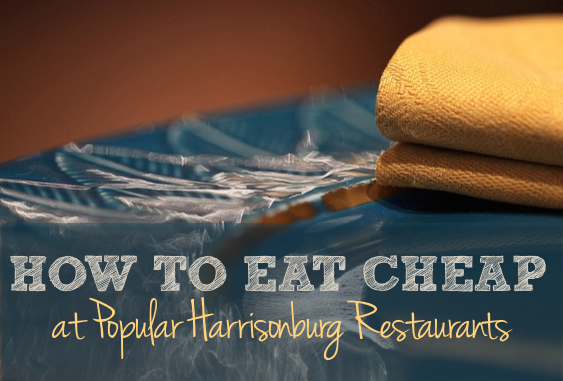 Here is a list of some of the best dining deals we've found in Harrisonburg, and how you can eat out on the cheap in the 'Burg:
Union Station serves $1.95 "bar bites" with a drink purchase every day during specific hours (they change depending on the day).
Capital Ale House has $2 burger night on Mondays from 4:00 PM – 1:00 AM, with a beverage purchase.
Bella Luna's $5 pizza happy hour every day is truly one of the best deals in town.
A Bowl of Good has you covered on Saturday mornings with an $8 all-you-can-eat breakfast buffet.
Local Chop & Grill House serves a "Local Hour" Tuesdays – Thursdays from 4:00 PM – 7:00 PM with $2 off all appetizers, soups, and salads.
Clementine offers $4 appetizers from 4:00 PM – 6:00 PM Mondays – Fridays.
Corgans' Publick House has 50 cent wing night on Mondays, and stop by on Wednesdays for $5 burgers.
The Artful Dodger has a buy one get one deal for appetizers from 4:00 PM – 9:00 PM.
Billy Jack's serves $2 sliders on Tuesdays and $3 sticky nuggs on Thursdays.
Cuban Burger features ½ priced snacks 7 days a week from 3:00 PM – 6:00 PM, ½ priced Fritas from 7:00 PM – 10:00 PM on Tuesdays, and ½ priced snacks from 9:00 PM – close on Fridays and Saturdays.
Food.Bar.Food offers happy hour specials from 4:00 PM – 6:00 PM Tuesdays – Saturdays, including half bowls and small plates for $4 – $6.
Joshua Wilton House has a $55 date night special on Thursdays, which includes a shared appetizer, two entrees, and a shared dessert.
The Baker's Dozen serves an all-homemade daily (from 7:00 AM – 10:00 AM) all-you-can-eat breakfast buffet for $6.99.
And, of course, another way to eat out on the cheap in Harrisonburg is to visit one of the many food trucks in the area!
——————-
Do you know of any other fantastic, can't-pass-it-up deals on dining in Harrisonburg? Let us know in the comments!