As always, the downtown scene is thriving here in Harrisonburg. In fact, it's so vibrant, that there's need to expand and continue growing. I had the privilege of sitting in on a Harrisonburg Downtown Renaissance Advisory Board meeting to get the scoop on what's happening around town.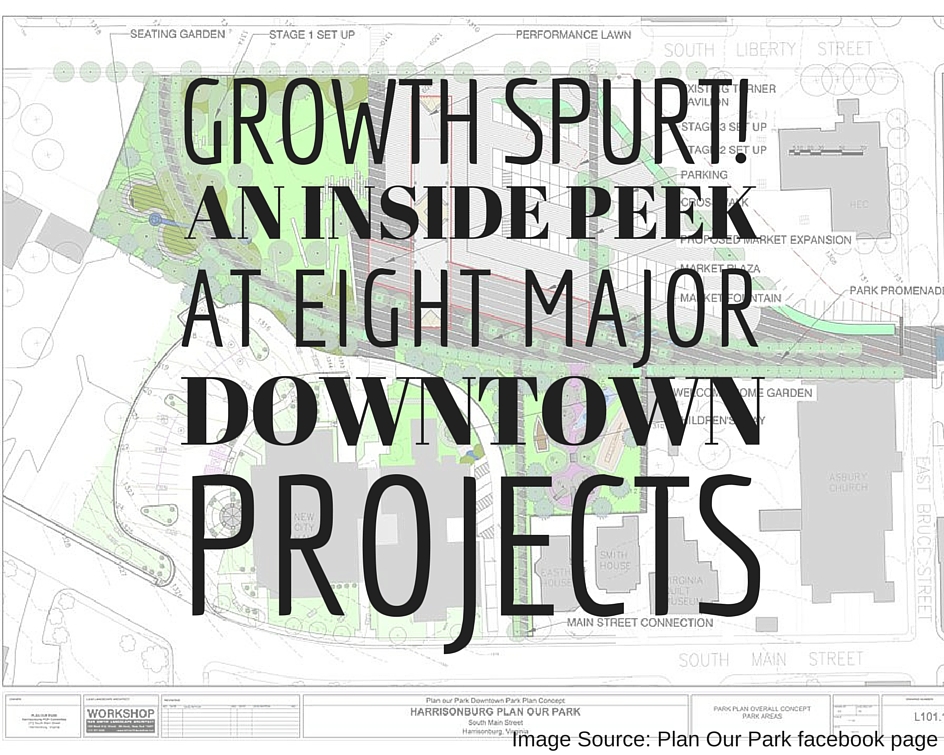 Here's a quick snapshot of eight projects HDR and others are working on to continue to uphold Harrisonburg's reputation as a great place to live.

A heavily discussed project, the downtown hotel and conference center build is well into the planning stages.
More on the Project:
Grace Street, Main Street, and MLK Jr. Way will all get a new turn lane
The building will include a hotel tower, conference center, and restaurant
300 parking spaces will be leased from the new JMU parking deck with covered walkways from the building
The hotel will consist of 230 rooms, including some extended stay rooms with kitchens
The conference center will be able to hold 750 people with the ability to accommodate 3 functions simultaneously
The plan is to begin the build on March 31st, 2016 with a projected 15 month building plan. This would put the opening of the Hotel and Conference Center in the summer of 2017

The old Hess Furniture building has recently changed ownership and will look quite a bit different in the near future.
More on the Renovation:
The focus for the new space is on increased retail and office space downtown
A new entrance will be created on the North side of the building off the parking lot and will feature a 2-story atrium with 22′ ceilings
The space is already 85% full and signed for with several office tenants and one retail store that will reside on the first floor, complete with a viewing workshop
The benefits of this renovation include 39 new employees working downtown, $2,000,000 in capital improvements, and revitalization on the critical Liberty Street corridor

A lot of activity is happening in the Wine Bros. building downtown as crews work to make the space into an arcade and apartments.
More about the Project:
The arcade will include 4 duck pin bowling lanes, pool tables, ping-pong, foosball, a bar, and a kitchen serving BBQ and wood-fired pizza
The arcade will hopefully open early next year
There will be 4 apartments upstairs – the plan is for work to begin in more earnest on those at the start of 2016

For a city's downtown to thrive, it is essential that there be a good balance between restaurants and retail. In order to ensure that the retail scene here in Harrisonburg keeps up with the booming restaurant industry, the Small Business Development Center is collaborating with HDR to offer a Retail Renaissance program.
About the Program:
A 6 week program with targeted workshops and resources to help local downtown retail stores
There are 17 attendees representing 12 businesses
You may notice some changes in local retail stores including things like a stronger social media presence and extended retail hours

This beautiful old train station has endured a lot with 3 separate fires leaving it in a rather poor condition. But now it is in the process of being renovated and restored to its full potential.
More on this Project:
The hope is to rehab many of the original features that survived the fires
An entrance is going in on the West side of the building and the sidewalks will be redone
The entire space is already spoken for
The back portion will continue to be a warehouse for Monger lumber
Downstairs will be a window and door showroom
Upstairs will be office space

An on-going staple of our community, the Friendly City Food Co-op has undergone some changes and expansions recently.
About the Co-op:
New Community Room (for classes, meetings, and training)
New Produce Prep Room
New Grocery Receiving Room (though as a customer, you won't get to see these rooms, it effects your shopping experience by keeping the aisles and retail space more open)
The Teeny Tiny Spice Co. is now a tenant at the co-op where they grind, prep, and sell their spices
A Hot Food Bar should be up and running by January 2016, just in time for when you really need some hot food to combat the bitter winter cold

Urban parks have proved to be very successful in the revitalization of downtown spaces. The one in the works for Harrisonburg is looking pretty spectacular.
More on the Park:
Projected features include a 10′ pedestrian walkway with linkages to other parks and downtown spots, a new pavilion to compliment the existing Farmer's Market (with added prep kitchen), a great lawn with stage setup, a pergola with water feature, and a children's play area
The economical benefits of building this Park will include the generation of more money through events as well as an increase in property values around it

The much-anticipated brewery that is slated for Wolfe Street should be opening very soon… as in, within the next week or two. Stay tuned!