CNN Money just published their Top 25 Best Places To Live, and that list did not include Harrisonburg, Virginia. Regardless of what CNN thinks, we believe Harrisonburg is a great place to live, and here are 7 reasons why: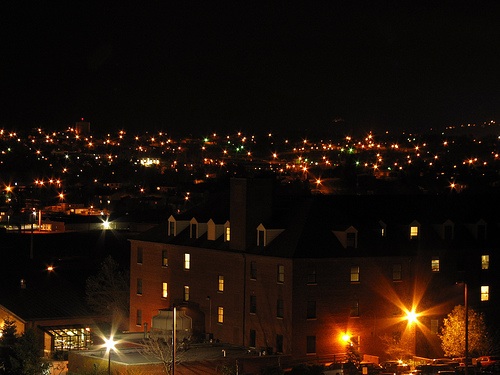 Location. Harrisonburg is situated in the center of the beautiful Shenandoah Valley, just 45 minutes from Charlottesville (which is home to University of Virginia), an hour from Winchester, and two hours from Washington DC, Richmond, and Roanoke. The Blue Ridge Mountains surround Harrisonburg on the east, and the Allegheny's are on the west. Certain points of Harrisonburg and Rockingham County offer absolutely spectacular views of the mountains and rolling countryside!
Unemployment Rate. The current national unemployment rate is a whopping 8.3%, whereas Harrisonburg's is 7.2%.
Activities. There is always something going on in Harrisonburg, whether its a downtown festival, live music, art show, sports event, or walking tour. Harrisonburg is also located in one of the most history-rich areas of the country, with many battlefields and museums to visit nearby. We've also published several things to do in Harrisonburg with kids!
Weather. Harrisonburg boasts four beautiful seasons, with brightly colored fall foliage and crisp cool air in October, cold breezes and relatively light snow fall in January, seas of Daffodils and warm sunshine in April, and hot days perfect for the pool in July. Check out local average temperatures by month!
Job Opportunities. There are a myriad of small locally owned businesses in and around Harrisonburg, but there are also several large corporations — both locally and nationally owned — that provide numerous jobs for the community: Rockingham Memorial Hospital, James Madison University, Eastern Mennonite University, SRI, SI, Alcoa, Rosetta Stone, Dynamic Aviation, Merck, Coors Brewing Company, Marshall's, Perdue, and more!
Lifestyle and Culture. Harrisonburg residents enjoy the outdoors, annual festivals, locally owned businesses, a plethora of restaurants and shops, music, the arts, sports, and so much more. There are several sources for fresh produce, farmers markets, and even food trucks that offer more options than the grocery store or restaurants, giving the community a wide variety of culinary delights. Harrisonburg also boasts a bike- and walk-friendly atmosphere with several trails and wide roadways to choose from.
Housing. Of course, we're big supporters of the housing market here in Harrisonburg! We've got Market Reports to prove that the local real estate market is improving — and has been for pretty much all of 2012 so far.
Harrisonburg may not be on CNN's top best places to live list, but it is a great place to live and work. A number of JMU students actually end up staying in the area after they graduate because they like it so much! Many folks also retire here because of the laid back lifestyle. It really is a wonderful area for people of all ages and in all stages of life.
Harrisonburg Tourism recently launched a marketing campaign called "It's Better in the Burg," and produced this video, which we think pretty much sums up why we like it so much, too:
What is your favorite part of living in Harrisonburg?