Throwing a party? Hosting a reunion? Wedding reception? Memorial service? Feeding a crowd can be intimidating if you try to handle it all yourself. Free yourself of undesired stress! We've put together a list of our favorite LOCAL caterers — with a variety of cuisine possibilities (BBQ, Asian, vegetarian, Italian, and more!) — in Harrisonburg and Rockingham County, including some who are dedicated only to catering. Relax and let these professionals please the palates of you and your guests.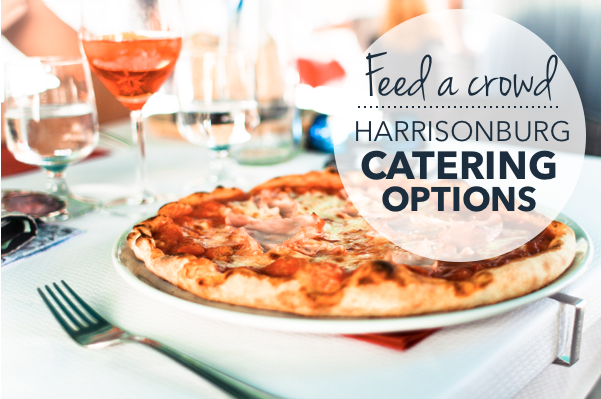 Local Restaurants That Offer Catering
Bella Luna Wood-fired Pizza. Bella Luna has expanded and added a special events room! The award-winning style of the Bella Luna space paired with the delicious food we've come to love make this the perfect spot for your next event.
A Bowl of Good. Flavorful breakfast, lunch, and dinner options for a quick get-together, or several meals provided during a conference or weekend festivities! They work with you to come up with the perfect menu for your special occasion. Call 540-437-9020. View their catering menu.
Vito's Italian Kitchen. We often delight our fellow Realtors during special lunchtime open houses with the delicious food from Vito's. Our personal favorites are the ziti alla vodka and garlic knots! Call 540-433-1113. View their catering menu.
Hank's Smokehouse. Large or small events, with separate menus for each so that you can plan according to your crowd size and budget. Traditional southern BBQ and yummy sides, and they even have a list of favorite venues, if you're still in need of a place to host your gathering. Call 540-289-7778. View their catering menu.
Clementine Cafe. Offering several options for cocktail parties, dinner buffets, and lunch sandwich buffets, with complete service available for both casual and formal events. A full bar service is also available. They can also "cater" to your specific needs! Call 540-801-8881. View their catering menu.
Mashita. Delectable Korean-style food out of a mobile food truck. There's plenty on the menu to choose from, but if you're in the mood for something else – just ask. This culinary team will work with you to create something that's sure to please your guests. Call 540-810-1875.
Beyond. Asian-fusion cuisine with catering options for lunch, dinner, or anything in between. They'll specialize a menu according to your event needs, and believe us when we say it is delicious! Call 540-432-0105.
La Taurina Grill II. Authentic, delicious, and affordable Mexican fare from a food truck! We highly recommend La Taurina for your casual events — both lunch and dinner. Call 540-246-8564.
Union Station. A downtown restaurant and bar that offers both on-site and off-site catering to meet your needs. They serve new versions of old family favorites that have been recreated to fit modern taste, presentation, and budget. Call 540-437-0042.
Flavor Savor BBQ. Mouthwatering pork BBQ, beef brisket, and homemade made from scratch sides. The owners of this food truck are Pitmasters and have won several awards for their flavorful fare. Their catering is sure to please your guests! Call 540-820-8450.
Grilled Cheese Mania. Simple comfort food with delightful specialty grilled cheese sandwiches, mac and cheese, and refreshing beverages! They will work with you to provide a catering menu that will wow your guests. Call 540-746-7515.
Mama's Caboose. This mobile food truck recently added a deli and catering service, and offers a custom catering menu for large and small events. Call 540-908-0029. View their catering menu.
Local Businesses That Specialize in Catering
Scrumptious Suppers. A catering company specialized in catering, but they've also very recently opened up a cafe and storefront in Bridgewater. It's "feel good food" for parties large and small, with several service options to choose from. Call 540-828-3268. View their catering menus.
Early Katering Company. A full-service catering company offering affordable excellence and superior service, with over 25 years of experience! They provide a variety of menu options, from country picnic style to black tie weddings. Call 540-801-8139. View their catering menu.
A SpecialTEA Occasion. Catered, stylish, upscale tea parties that come to you! Enjoy a full tea, with handmade scones, curd, devonshire cream, and other delectable sweets and savories, and of course, tea. They prepare, present, and clean up, so you have nothing to worry about except entertaining your guests. The timing for tea is great for any occasion! Call 540-810-4699.
JMU Special Event Catering. James Madison University is known for its fabulous dining services, and their special event catering doesn't disappoint. Call, email, or order online for your next luncheon, staff meeting, or retreat. They'll create a menu suited to your taste.
——
If you have another favorite local caterer, please comment with their information below! Or, if you've used any of these caterers before, we'd love to know how your experience went.
For a full list of restaurants in the Harrisonburg area — many of whom cater — check out our Restaurant Guide!