The holidays are over. You are tired and spent (financially and otherwise). What better way to hit the "refresh" button on your life than going on a date with your sweetie? Whether you've been together for decades or you're planning your first date, we think this list of 10 places to go on a date in Harrisonburg are fantastic options. The best part: they won't break the bank. Try one, or try them all!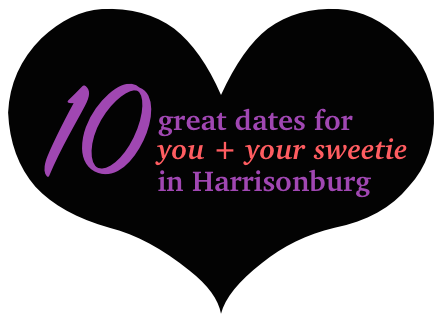 Team Trivia at Clementine's
For the competitive couple or a group date, head over to Clementine's for Team Trivia Night on Tuesdays. To participate, simply show up before 9:00 PM, tell your server you'd like to play, and show off your trivia skills. The winner gets $50! While you're enjoying the game, chow down on delicious eats from their amazing menu and get to know your beloved a bit more.
Two for Tuesdays at Vito's
Enjoy a casual Italian meal at one of our favorite dining spots in Harrisonburg with Two for Tuesdays at Vito's Italian Kitchen. For $22 per couple, they'll serve you two wines or beers, two side salads, one large one topping pizza or one large calzone, and one dessert to share.
Date Night at Joshua Wilton House
Looking for a more formal dining atmosphere? You'll delight in a special date night at one of Harrisonburg's finest dining restaurants. On Thursdays, for $55, you and your loved one can get a shared appetizer, two entrees, and a shared dessert.
Date Night at L'Italia
On the first Thursday of the month, L'Italia, another fine dining restaurant in Harrisonburg, serving authentic Italian fare, offers a fantastic date night deal. For $49 per couple, you and your sweetheart will enjoy a 4-course meal and a bottle of wine. It's available from 4:00 PM – 9:30 PM, and believe us, you'll want to make a reservation.
Swing Dancing at Church of the Incarnation
Get your groove on! Join in the HarriSWINGburg Swing Dance at The Church of the Incarnation every third Friday of the month. There are free beginner lessons from 7:30 PM – 8:00 PM, and for just $5, you can swing your partner around the room from 8:00 PM – 11:00 PM.
Fireside Fridays at CrossKeys Vineyards
Are live music and wine tasting more your vibe? Grab your cutie and head over to CrossKeys Vineyards for Fireside Fridays. Every Friday night from 5:00 PM – 8:00 PM, sip on a glass of wine by the fireplace while listening to a local musician. Reservations are not required, but they are recommended.
Sweetheart Saturdays at Corgans Publick House
New in 2015 is a date night special at Harrisonburg's only Irish pub. Grab a cozy booth on Saturdays from 5:00 PM – 10:00 PM at Corgans and dine on two Irish entrees of choice, two salads, two glasses of beer or wine, and a dessert to share… all for $38.
Free Brew Tour at Three Brothers Brewing
Need something to do, rather than just eat? Take a free tour of the production area at Three Brothers Brewing on Saturdays from 12:15 PM – 2:00 PM!
Kids Night at Larkin Arts
As an alternative to finding a babysitter for your kids, if you plan it just right, you can drop them off at Larkin Arts for a three-hour time slot. While they get to create art with incredibly talented local artists, you love birds can enjoy a night on the town! Keep an eye on Larkin Arts' event page for any upcoming date night events and the cost involved. (It's usually about $25 per kid.)
Take in a Game at Your Favorite Local College or University
Fun memories can be made while watching an athletic event with your sweetheart. Games at any of our local colleges or universities are either free or fairly inexpensive, so go on, enjoy cheering on your favorite team and splurge on a popcorn and soda to share. Check the athletic websites at James Madison University, Bridgewater College, or Eastern Mennonite University for more information.
Where is your favorite date spot in the 'Burg?