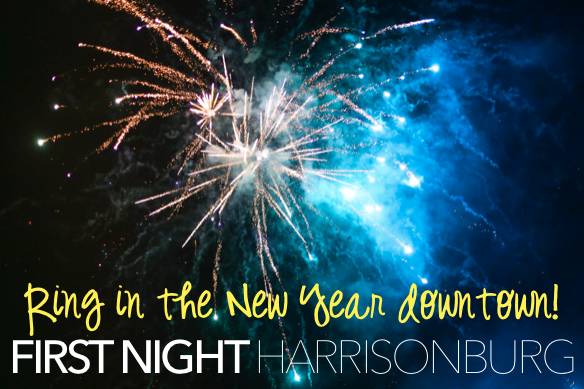 Harrisonburg's best downtown celebration is just a week away! On New Year's Eve, Court Square will be busting at the seams with live music, dancing, art exhibits, food and drinks, children's activities, and more. This is one party you don't want to miss out on!
Get Your First Night Button
Remember to grab your First Night button at any of these retailers before the event to save a couple bucks (they are $6 pre-sale, and $8 the night of the event):
Daily News-Record
Massanutten Resort General Store
Rocktown Gift Shoppe in the Hardesty-Higgins House
Massanutten Regional Library
Downtown Books
Friendly City Food Co-op
Glenn's Fair Price Store
Red Front Supermarket
Oasis
Mr. J's (All three locations)
Schedule of Events
Check out this 6-hour schedule of events beforehand so you can scope out which events you want to attend. Special note: our office (aka Wilson Downtown Gallery) will be offering face painting from 7:00 – 9:00!
Entertainment
Interested in learning more about the performers and exhibits offered throughout the evening? Read all about the entertainment here. Some of them include Randy Black & Soul Dressing, Nothin' Fancy, The Walking Roots Band, The Magic of Brian Bence, and The Shenandoah Valley Minstrels, to name just a few.
Fireworks
Of course, you'll definitely want to stay for the fireworks at the strike of midnight, to officially ring in 2016. Court Square will be lit up by the booming, colorful explosions in the night sky — rain or shine!
For more information, such as parking and maps, visit firstnightharrisonburg.com.