I think we would all agree that Harrisonburg is a special and unique place. But I get especially excited when we discover something being done in Harrisonburg that you would be hard pressed to find anywhere else in the country.
Well, we came across one of those unique-to-Harrisonburg finds with Wyse Cycles, a mobile bicycle repair shop based right here in Harrisonburg. As far as anyone can tell, there is only one other business in the entire country that is doing what Ben Wyse of Wyse Cycles is doing.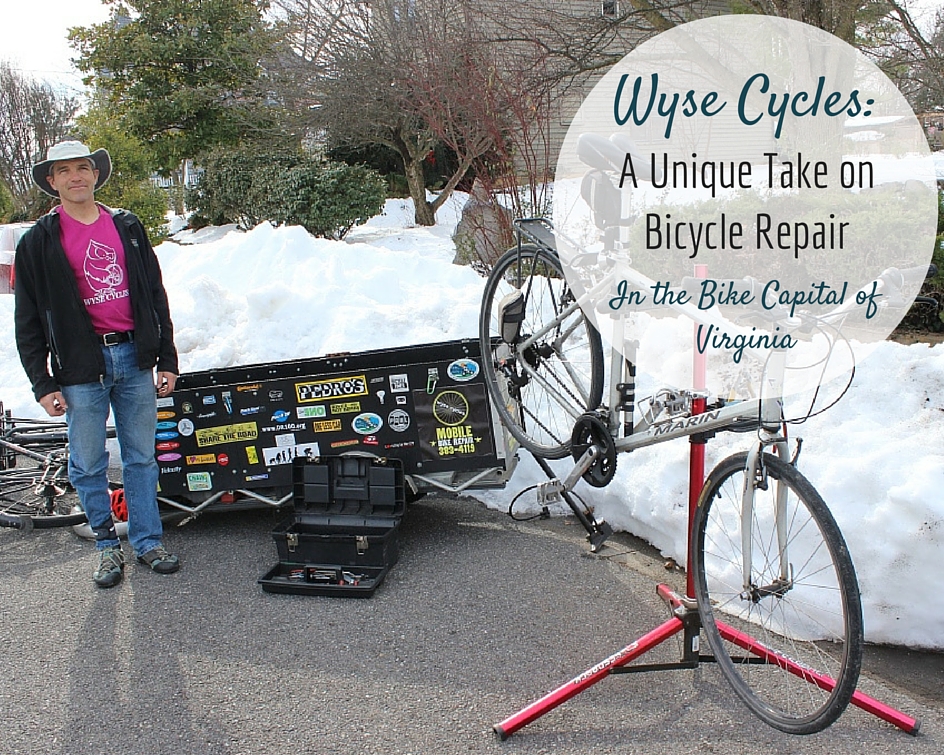 A mobile bicycle repair shop – how is that unique, you ask?
Well, instead of operating out of a van or truck, Ben Wyse bikes to his customers, pulling his repair equipment behind him. As someone who is passionate about biking for transportation, he sure does practice what he preaches!
But I'll let him tell you a little more about it…
Why did you start a mobile repair business?
BW: I worked at some other local bike shops in Harrisonburg starting in 2001. And during those years I realized that there were sometimes folks who had bikes that needed repairs and they maybe didn't have a rack on the back of their car or they didn't know how to take it apart far enough to stick it in their trunk or they didn't have a pick-up truck – so transportation to the bike shop with the broken bike was an issue for some folks. Sometimes people rely on their bikes for their daily transportation and may not own a car. For people like that, leaving the bike at the bike shop for a couple days can be sort of a hardship. So those were some of the reasons I decided to take the repair to the bike instead of taking the bike to the bike shop.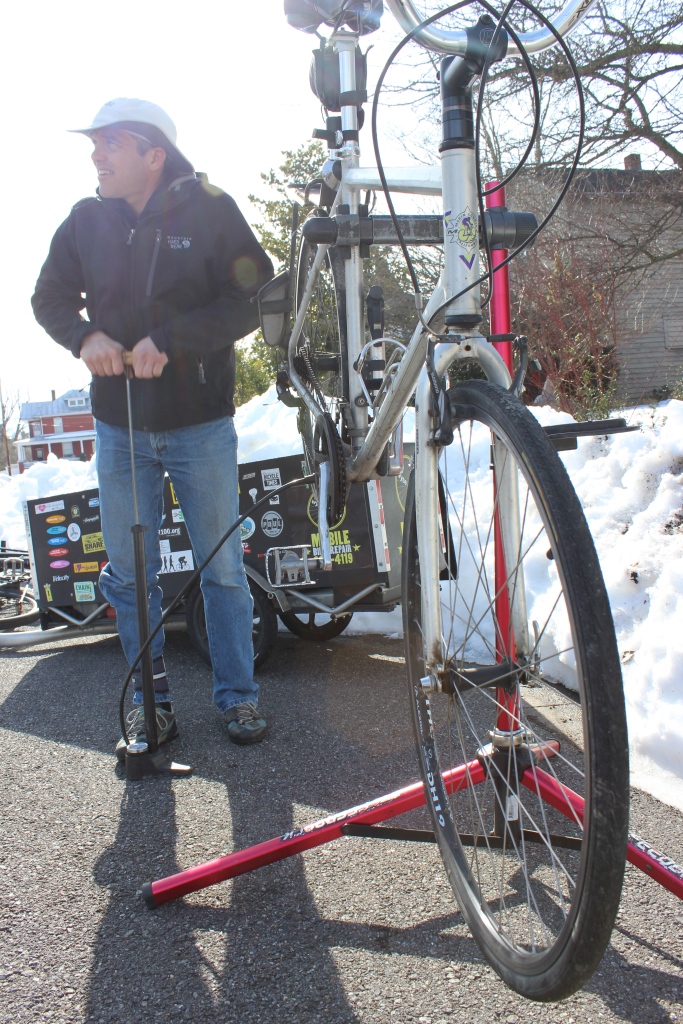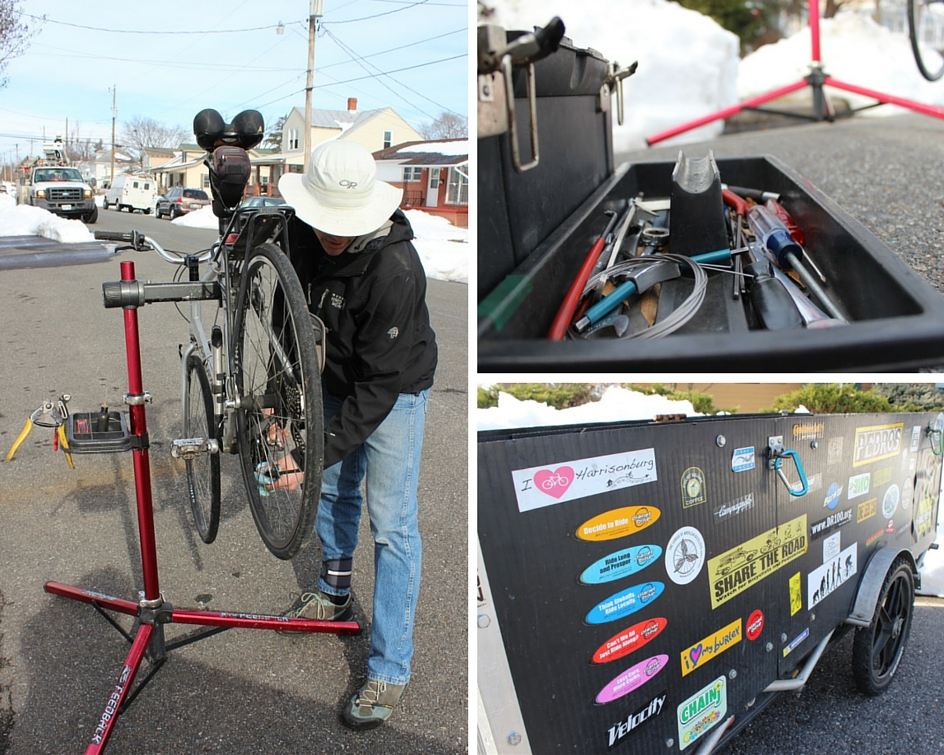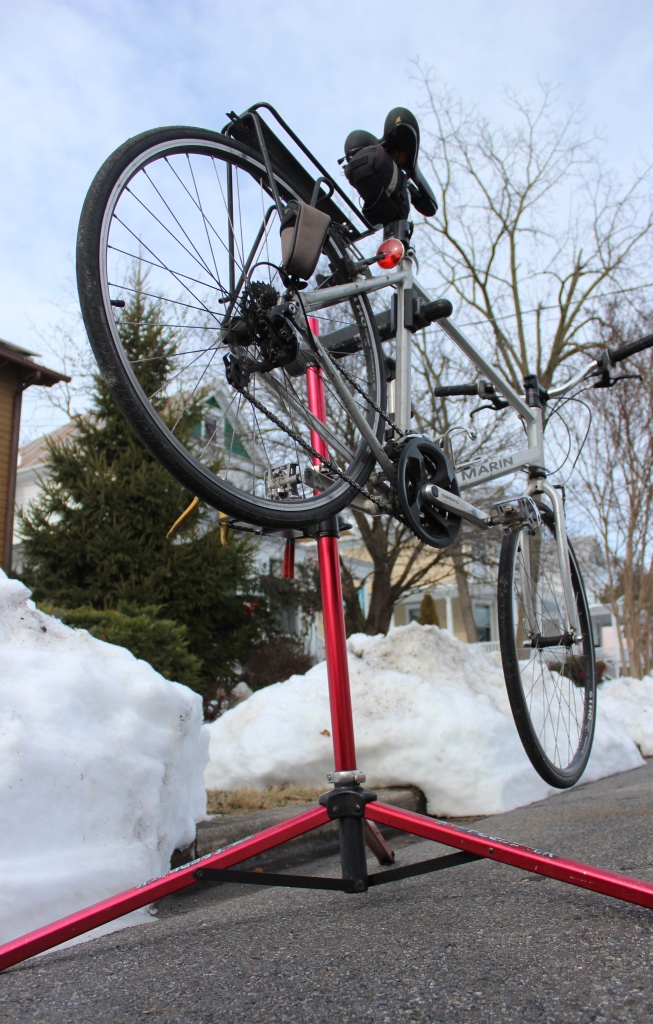 Why did you decide to bike to your customers instead of using something like a van or truck?
BW: Partly it's sort of a philosophical issue. One of the things that is brilliant about the bicycle is that it's something that lots of people have found to be enjoyable and fun as recreation but it's also a really useful tool for transportation. You can't golf your way to work. You can't play a football game or basketball game to get to work. But you can ride a bike and get to work – so you're getting your recreation and fun together. I think modeling the usefulness of the bicycle in my business makes sense to sort of demonstrate that it's a practical way to get around.
And the other thing is that it lowers my overhead, which makes it easier for me to serve a range of clients.
Ben has used a bike as his primary mode of transportation for over 20 years and his focus is on repairing bikes for people who also use their bike for transportation. He enjoys helping families as well since he can bike to a house and repair multiple bikes at one time, saving the family the hassle of loading their bikes into a car.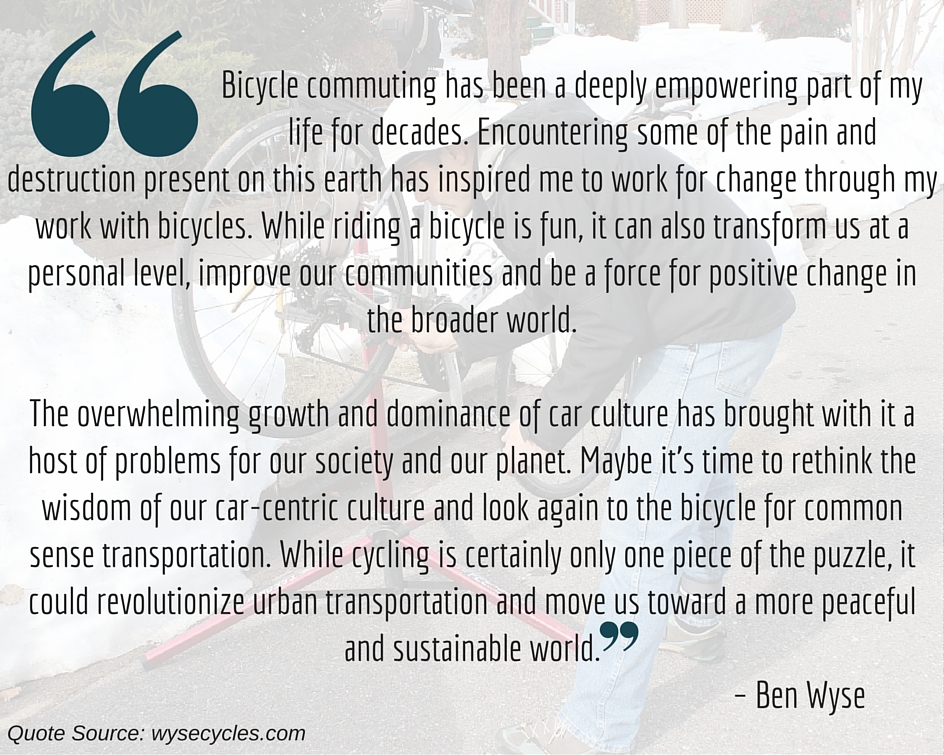 Do you also love biking as both recreation and transportation?
Keep Ben in mind next time you need to schedule a bike repair.
In the meantime, check out the the Connect Our Schools campaign. Sign the letter to become part of the movement to create safe ways for kids in our community to walk or bike to school… This project would be a big step toward making Harrisonburg an even (bike) friendlier city.